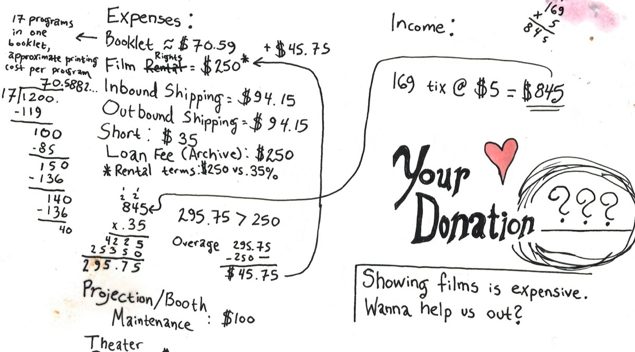 The Chicago Film Society is a 501(c)3 not-for-profit organization created to preserve film-on-film exhibition in Chicago and beyond. Our work relies on your donations!

Donate by credit or debit
Transactions processed by Paypal.

Become a monthly supporter on Patreon
This option includes occasional extra perks!

Donate by postal mail
Send a check or money order to:

Chicago Film Society
1635 E 55th St
Chicago, IL 60615
What will my donation be used for?

All donations are tax deductible as allowed by law, and will be used towards general operating costs. These include film print rental and screening rights clearance, shipping, staffing costs for our public screenings, film lab costs for our preservation work, the cost of new archival film cans for our film collection, rent on our office (which doubles as a film vault), and the cost of paying the web host for this website.

---

Donations of film or equipment

The Chicago Film Society is also happy to accept in kind donations of films (16mm, 35mm, or 70mm), film memorabilia (posters, lobby cards, stills, etc.), film projector manuals, and projection and sound equipment. Please feel free to contact us at info@chicagofilmsociety.org if you wish to make an in-kind donation.

---

Government & Foundation Support

The Chicago Film Society is partially supported by a grant from the Illinois Arts Council Agency.

The Chicago Film Society's EIN is 80-0676821.