Programmed and Projected by Julian Antos, Becca Hall, Rebecca Lyon, Kyle Westphal, and Cameron Worden.

Research Associate: Mike Quintero. Intern: Vincent Mollica

Our screenings are held at multiple venues around Chicago, including:
• The Auditorium at Northeastern Illinois University (inside of Building E)
3701 W. Bryn Mawr Ave., Chicago, IL 60625 — Directions • Campus Map
Tickets: General Admission: $7 • NEIU Students: $3


• The Music Box Theatre
3733 N. Southport Ave., Chicago, IL 60613 — Directions • Parking
Tickets: $10 or $11


• Chicago Filmmakers
5720 N Ridge Ave., Chicago, IL 60660 — Directions • Parking
Tickets: $8
---
SEASON AT A GLANCE
JANUARY
Sat 1/5 at 11:30 AM ………….. From Morn To Midnight ………….. Music Box
Wed 1/9 at 7:30 PM ………….. Computer Chess ………….. NEIU
Mon 1/14 at 7:00 PM ………… O.C. and Stiggs ………….. Music Box
Wed 1/23 at 7:30 PM ………… Don't Bother To Knock ………….. NEIU
Wed 1/30 at 7:30 PM ………… Seminole ………….. NEIU
FEBRUARY
Wed 2/6 at 7:30 PM …………. Play It As It Lays ………….. NEIU
Sat 2/9 at 11:30 AM …………. Adventures of Prince Achmed ………….. Music Box
Wed 2/13 at 7:30 PM ……….. Hana-Bi ………….. NEIU
Wed 2/20 at 7:30 PM ………. False Faces ………….. NEIU
Mon 2/25 at 7:00 PM ………. Rock 'n' Roll High School ………….. Music Box
Wed 2/27 at 7:30 PM ………. Mr. Sardonicus ………….. NEIU
MARCH
Sat 3/2 at 7:30 PM ……………. Prairie Trilogy………….. Chicago Filmmakers
Wed 3/6 at 7:30 PM …………. Symbiopsychotaxiplasm: Take One ………….. NEIU
Wed 3/13 at 7:30 PM ……….. Christopher Strong ………….. NEIU
Sat 3/16 at 11:30 AM ……….. Fragment of an Empire ………….. Music Box
Mon 3/25 at 7:00 PM ……….. Ghost World ………….. Music Box
APRIL
Sat 4/6 at 6:00 PM …………… TV on Film ………….. Chicago Filmmakers
Sat 4/13 at 11:30 AM ……….. His Nibs ………….. Music Box
Wed 4/17 at 7:30 PM ………. Power of the Press + The Editor's Notebook .….. NEIU
Sun 4/21 at 7:00 PM ……….. Easter Parade ………….. Music Box
---
Saturday, January 5 @ 11:30 AM / Music Box Theatre
FROM MORN TO MIDNIGHT
Directed by Karlheinz Martin • 1920
Live accompaniment by Music Box house organist Dennis Scott
A bank clerk (Ernst Deutsch) becomes beguiled by a mysterious woman (Erna Morena) and embezzles a large sum from his firm in hopes of sloughing off the oppressive stability of his bourgeois lifestyle. When the woman rejects his entreaties, the clerk descends through the hellhole of modern urban life. Produced shortly after the release of The Cabinet of Dr. Caligari, this stark adaptation of Georg Kaiser's Expressionist play was brought to the screen under the supervision of noted German theater director Karlheinz Martin. If anything, From Morn to Midnight makes Caligari look like a bucolic Sunday afternoon stroll through the county fairgrounds. The Dogville of its day, Martin's film ups the Expressionist ante—the monochromatic sets are sharp and angular, the space is resolutely non-naturalistic, and even the light is painted on. The stylization proved so radical that From Morn to Midnight never received a German theatrical release; Martin's experiment would be lost to history completely were it not for the film's anomalous popularity in Japan, where the sole surviving copy was found in 1959. This 2004 restoration from the National Film Archive of Japan and the Munich Filmmuseum reconstructs the original German intertitles and returns this ghastly social critique to the forefront of Weimar cinema. (KW)
69 min • Ilag-Film • 35mm from the National Film Archive of Japan
Cartoon: Felix the Cat in "Whys and Otherwise" (Otto Messmer, 1927) – 7 min – 16mm

---
Wednesday, January 9 @ 7:30 PM / NEIU
COMPUTER CHESS
Directed by Andrew Bujalski • 2013
In a nondescript motel somewhere in Texas, a confluence of computer programmers, swinging new agers, doomsday spectators, video technicians, and an unconscionable number of cats have found themselves in the midst of some very strange happenings. Structured around a chess tournament played by computers and supervised by a room full of idealistic professors, tech industry players, and unaffiliated wildcards, Computer Chess looks to a time in which the utopian dreams of networked technology had yet to be tainted by VC funds and security state interests. Saddling his cast with Coke-bottle glasses and overstarched shirts, independent stalwart Andrew Bujalski revels in the flat, beautifully utilitarian aesthetics of his milieu, shooting on smeary black-and-white video courtesy of ancient Sony Portapak cameras that were already well out of date by the 1980s. Equal parts mockumentary, sports saga, and science fiction, Computer Chess feels like no other film the American cinema has recently produced, an unclassifiable brain teaser that changes shape with every scene. We're proud to present Bujalski's contemporary masterpiece in a format as gloriously unexpected as the film itself: a 35mm print specially commissioned by the Chicago Film Society. (CW)
91 min • Computer Chess LLC • 35mm from Chicago Film Society Collections, permission Kino Lorber
Film Stock: Fuji Lab: Cinema Printing Company
Short: Richard Simmons in "Noah Water to Waste" (Golden West Television, 1983) – 9 min – 16mm

---
Monday, January 14 @ 7:00 PM / Music Box Theatre
O.C. AND STIGGS
Directed by Robert Altman • 1987
Ready to burn his last bridge with Hollywood, Robert Altman took an offer to make a National Lampoon adaptation with a hefty budget at the height of the post-Animal House boom. What resulted was O.C. and Stiggs, a surreal, nearly plotless evisceration of an American culture enamored with conservative punditry, a usurious insurance industry, firearms, and plastic bric-a-brac, masquerading as a sexless teen sex comedy. Deploying a typically sprawling and rangy ensemble that includes Dennis Hopper, Jane Curtin, Paul Dooley, Tina Louise, Jon Cryer, Martin Mull, Cynthia Nixon, Melvin Van Peebles, Bob Uecker, and King Sunny Adé, Altman's film finds obnoxious teenage miscreants O.C. (Oliver Cromwell or Out of Control, take your pick) Ogilvie and Mark Stiggs wreaking havoc amidst a web of oblivious classmates, odious Reaganite suburb dwellers, and battle-scarred counterculture refugees. The results flummoxed the bosses at MGM, who summarily buried the film after delaying its release for years. An unparalleled achievement in transgressive studio filmmaking that somehow maintains its reputation as the most maligned film of Altman's most maligned decade, O.C. and Stiggs still feels too far afield for the suits, an utterly monstrous, mind-roasting explosive device ready to detonate in the face of anybody who dares to look its way. (CW)
109 min • MGM • 35mm from Park Circus
Short: "Today's Teens" (Movietone News, 1964) – 11 min – 35mm


---
Wednesday, January 23 @ 7:30 PM / NEIU
DON'T BOTHER TO KNOCK
Directed by Roy Ward Baker • 1952
20th Century-Fox handed Marilyn Monroe her first starring role as Nell Forbes, a young woman recovering from a nervous breakdown after the death of her fiancé, in this no-frills noir directed by Roy Ward Baker (later of Hammer Horror fame). Nell's sympathetic Uncle Eddie (Elisha Cook Jr.) gets her a babysitting job in the New York hotel where he works, but she soon proves to be a danger to both herself and to the poor kid she was just left alone with. Sulky Richard Widmark costars as Jed, a pilot trying to patch things up with the hotel's lounge singer (Anne Bancroft in a solid screen debut) who really just wants him to set his drink down every so often and stop being such a callous prick. She gets her wish (sort of), and he gets a hard lesson in the human condition when his casual flirtations with the quickly unraveling Nell trigger delusions that he's her dead fiancé. Upon its release critics were mostly unimpressed, possibly because at that point in Monroe's career she was better known for a nude photo than for being a serious actress (New York Times critic Bosley Crowther described her as lacking the "equipment" to handle the job). Yet she's stunning in the role, swinging from wide-eyed and vulnerable to downright scary with ease. Maybe the world wasn't ready for spooky Marilyn in 1952, but we sure are. (RL)
76 min • 20th Century-Fox • 35mm from Criterion Pictures, USA
Cartoon: Baby Huey in "Pest Pupil" (Dave Tendlar, 1957) – 6 min – 16mm

---
Wednesday, January 30 @ 7:30 PM / NEIU
SEMINOLE
Directed by Budd Boetticher • 1953
Quicksand, lethal humidity, man-eating reptiles, clouds of mosquitoes dense enough to block out the sun: regardless of how picturesque the terrain may be, there are plenty of reasons not to make a movie in the Florida Everglades. Still, a subset of committed genre specialists including Raoul Walsh and Nicholas Ray forged through the swamp to craft a rarified group of films thick with sweltering atmosphere that we could today call "Everglades Westerns." Working at Universal, sensitive tough-guy director Budd Boetticher was assigned one of the premiere entries in the subgenre, an ahistorical but nonetheless morally furious condemnation of the Seminole Wars which led to Florida statehood. Lt. Lance Caldwell (Rock Hudson) and Chief Osceola (a real-life Seminole hero of mixed ethnicity, played with deep sensitivity by Anthony Quinn) were childhood best friends but find themselves driven apart by American military incursions into the Everglades. While Caldwell opposes the war on the Seminole tribe, he feels duty-bound to lead his regiment through the perils of the swamp he grew up in, even as the troops weather brutal guerilla attacks by Osceola's incensed kinsmen. As in all of his best work, Boetticher brings a sense of formally innovative action and emotional grandeur to his B-movie template, ensuring every betrayal and ambush in Seminole hits like a tomahawk. With Western heavies Lee Marvin, James Best, and Russell Johnson. (CW)
87 min • Universal-International • 35mm from Universal
Film Stock: Eastman LPP (1989)
Preceded by: Rock Hudson Trailer Reel – approx. 9 min – 35mm


---
Wednesday, February 6 @ 7:30 PM / NEIU
PLAY IT AS IT LAYS
Directed by Frank Perry • 1972
Told in flashbacks from the labyrinthine gardens of a mental hospital, Play It As It Lays is a melancholy look at the day-to-day life of a Hollywood actress Maria Wyeth Lang (Tuesday Weld) searching for her fading childhood in Nevada in the weeks before her hospitalization. Anthony Perkins, reunited with Pretty Poison co-star Weld, carries a soft grace as her shaggy-haired friend, B.Z, a kind but profoundly depressed producer. This crushing depiction of ennui was Frank Perry's first film following his divorce from long-time creative partner Eleanor Rosenfeld (with whom he worked on David and Lisa and The Swimmer, among others), but he found distinguished new collaborators in Joan Didion and John Gregory Dunne. In adapting Didion's novel, Perry recalled, "We broke the novel down into every one of its fragments and arranged them in order, and then rearranged them into our order." Play It As It Lays received mixed reviews, though it did rally some unlikely partisans: "You watch the kaleidoscope as if assembling a jigsaw," observed Liz Smith in Cosmopolitan. Play It As It Lays has long been unavailable on home video, but Jordan Cronenweth's beautiful, everyday vistas of Nevada and California can and should only be seen on the big screen. (VM)
99 min • Universal Pictures • 35mm from Universal
Film Stock: Eastman LPP (1984)
Short: "Brooklyn Goes to Las Vegas" (Arthur Cohen, 1956) – 9 min – 35mm

---
Saturday, February 9 @ 11:30 AM / Music Box Theatre
THE ADVENTURES OF PRINCE ACHMED
Directed by Lotte Reiniger • 1926
Live accompaniment by Music Box house organist Dennis Scott
Teenage scissor prodigy and self-described "primitive caveman artist" Lotte Reiniger began working in the film industry as a designer of animated title cards in 1916 and soon found herself mixing with a coterie of bohemian cartoonists. Reiniger's big break came in 1923, as hyperinflation sent the value of the Deutschmark plummeting; one of her patrons, Berlin banker Louis Hagen, converted his liquid assets to the relatively "safe" currency of raw motion picture stock and built a small studio for Reiniger over the garage of his Potsdam vegetable garden. After three years, Reiniger emerged with The Adventures of Prince Achmed, a literally handmade tapestry of silhouette animation that may as well have sprung from a magic lamp. A free adaptation of several stories from the Arabian Nights, this mythical journey from Bagdad to Wak-Wak, with plenty of witches, sorcerers, and flying horses along the way, conjures more wonderful sights from card stock and tissue paper than most modern blockbusters can scare up with the budget and computing power of a small nation-state. Prince Achmed is now recognized as the earliest surviving animated feature film, but that's perhaps the least astounding thing about it. The craftsmanship of Prince Achmed remains singular and undiminished, with its intricately designed puppets, its freely undulating backdrops, its otherworldly special effects, and its unstoppable narrative ascent to the clouds. The original negative of Prince Achmed was destroyed in World War II, but luckily a tinted nitrate print was safely ensconced at the British Film Institute; which copy served as the basis for the film's 1999 restoration. (KW)
66 min • Comenius-Film GmbH • Tinted 35mm from Milestone Films
Film Stock: Kodak 2383 (2000)
Special introduction from members of Manual Cinema
Short: "Adam Raises Cain" (Tony Sarg, 1922) – 7 min – 16mm

---
Wednesday, February 13 @ 7:30 PM / NEIU
FIREWORKS (HANA-BI)
Directed by Takeshi Kitano • 1997
A stand-up comedian, television host, video game designer, and internationally acclaimed actor-director, Takeshi Kitano (responsible for CFS favorite A Scene at the Sea) added painter to his long list of hyphenates in 1994 while rehabilitating after a motor scooter accident temporarily sidelined his multitudinous careers and left half of his face paralyzed. A de facto first exhibition for his colorful, kitschy canvases (which adorn nearly every scene), the eccentric crime thriller Hana-Bi was also the film that solidified Beat Takeshi's reputation as an international arthouse favorite, winning the top prize at the Venice Film Festival and bringing him the strongest critical notices of his career. Takeshi stars as one of his trademark taciturn tough guys, an unstable ex-cop forever addled after his participation in a violent arrest gone wrong. While his former partners on the force try to get on with their lives to varying degrees of success (one takes up painting in an unspeakably moving bit of autobiography), Takeshi struggles with caring for his dying wife and finds himself in debt to the local yakuza. A jarring, achronological mixture of deadpan comedy, blunt violence, and bald-faced, unabashed sentiment, Hana-bi remains Kitano's most popular and perhaps representative film to date, as opaque, tender, and volatile as Takeshi himself. (CW)
103 min • Office Kitano • 35mm from Chicago Film Society Collections, permission Film Movement
Film Stock: Kodak 386 (Acetate, 1997)
Short: "Fireworks" (Kenneth Anger, 1947) – 15 min – 16mm from Canyon Cinema

---
Wednesday, February 20 @ 7:30 PM / NEIU
FALSE FACES
Directed by Lowell Sherman • 1932
The actor-director Lowell Sherman enjoyed a fascinating stage and screen career; he portrayed the villainous Lennox Sanderson in Griffith's Way Down East, guided Mae West through her breakthrough role in She Done Him Wrong, and directed Katharine Hepburn to her first Academy Award in Morning Glory. Sherman reached his self-effacing apotheosis in False Faces, a Poverty Row quickie as shameless and viperous as its subject. Based on the infamous career of quack plastic surgeon Henry Schireson, False Faces follows Dr. Silas Brenton (Sherman) as he flees a free clinic in New York for the greener pastures and comparative anonymity of Chicago, where he sets up a boutique nip-and-tuck operation. Brenton throws over society women (Lila Lee, Peggy Shannon) like excess cellulite but worry not—the bad doctor can stay ahead of his destiny only so long, even in a gleefully amoral pre-Code spectacle that plays to the cheap seats. Dismissed upon its initial release by the New York Times as "a forlorn little item," singling out Sherman for a "performance that is at least as insincere as it is unsympathetic," False Faces has been resurrected as a grotesque, scab-picking exposé that must be seen to be believed. Restored by UCLA Film & Television Archive with funding provided by The Packard Humanities Institute (KW)
81 min • KBS Productions • 35mm from UCLA Film & Television Archive
Film Stock: Kodak 2302 (2016) Lab: The Stanford Theatre Film Laboratory
Cartoon: "Northwest Hounded Police" (Tex Avery, 1946) – 8 min – 16mm

---
Monday, February 25 @ 7:00 PM / Music Box Theatre
ROCK 'N' ROLL HIGH SCHOOL
Directed by Allan Arkush • 1979
In a just world, the punk iconoclasts in the Ramones would have been offered as many starring vehicles as Elvis and the Beatles combined. Alas, we're left with only a single, perfect example in Rock 'n' Roll High School, the Roger Corman-produced youthsploitation effort pitched for Cheap Trick but gloriously retrofitted for the brothers from Queens. Riff Randell (erstwhile scream queen P.J. Soles, solidifying cult icon status) is the biggest Ramones fan at Vince Lombardi High School, but her plan to liberate her dance-crazy classmates with tickets to see the band is put in danger when the dictatorial new school principal Evelyn Togar (underground darling Mary Woronov) declares a moratorium on rock 'n' roll. Like an issue of Mad Magazine come to life, Rock 'n' Roll High School never relents in its wall-to-wall silliness, a cyclone of bad puns, dopey site gags, and exploding mice capable of pummeling even the stoniest audience member into caws of ecstatic laughter. By the time the film crescendos with the Ramones blasting through five full live numbers in the span of time most movies would devote to two, you'll also be ready to declare yourself a teenage lobotomy. (CW)
93 min • New World Pictures • New 35mm from Academy Film Archive, permission Criterion Pictures, USA
Short: "Total Control" (Chris NyBy, 1979) – 11 min – 16mm from USC School of Cinematic Arts
Copresented by CHIRP Radio 107.1 FM

---
Wednesday, February 27 @ 7:30 PM / NEIU
MR. SARDONICUS
Directed by William Castle • 1961
With all due respect to Roger Ebert, you have to wonder how he can see cinema as an "empathy machine" when the transcendently cruel Mr. Sardonicus exists. In the remote, fictional Eastern European province of Gorslava, horrific tales of the masked Baron Sardonicus proliferate as a parade of young peasant women enter his manor, never to be seen again. Enter Sir Robert Cargrave, invited to Castle Sardonicus by his old flame (who happens to now be the Baron's wife) to cure the Baron of the mysterious, gruesome ailment driving his fatal experiments on the local maidenry. A salacious, sadistic gothic horror show that plays like the missing link between Browning and Bava, Mr. Sardonicus is also as ghoulishly pleasurable a film as director William Castle ever made, a barrage of Addams Family-caliber antisocial humor guaranteed to leave a grotesque rictus grin plastered across your face. Never one to turn down a gimmick, Castle ends the film with a "Punishment Poll," ostensibly ceding to the audience whether or not the villainous Sardonicus will be granted benevolent mercy in the film's final minutes. Given the wickedness of the preceding 87, we're pretty sure we know how the vote will go. (CW)
90 min • Columbia Pictures • 35mm from Sony Pictures Repertory
Preceded by: William Castle Trailer Reel – 10 min – 35mm

---
Saturday, March 2 @ 7:30 PM / Chicago Filmmakers
PRAIRIE TRILOGY
Directed by John Hanson and Rob Nilsson • 1977 – 1980
With 21st century politics forged along a highly polarized, seemingly intractable red state-blue state divide, it's easy to believe that American society is static and organizing futile. But coalitions, parties, ideologies, and loyalties continually shift, decouple, and evolve, as demonstrated by the oft-neglected radical history of North Dakota, site of the Nonpartisan League, established as a farmers' counterweight to eastern monopolies and trusts in 1922. John Hanson and Rob Nilsson's trilogy of documentaries, funded by the North Dakota Humanities Council and the North Dakota AFL-CIO, is a lively act of recovered history on 16mm. A companion to Hanson and Nilsson's remarkable feature Northern Lights (1978), the Prairie Trilogy pivots on the memories of 97-year-old League veteran and self-described optimistic socialist Henry Martinson, who maintains, "You can't find a better color than red. It's like the blood flowing in all the people's veins and we're all alike in that respect. That eventually will become the universal flag." In Prairie Fire (1977, 30 min), Martinson's reminiscences are interspersed with contemporaneous footage of North Dakota shot by Nilsson's grandfather, Frithjof Holmboe. In Rebel Earth (1980, 49 min), Martinson tours the sites of his youth and comments on the state of stagflation-era America. Survivor (1980, 28 min) finds Martinson still working and opining as recording secretary for the Fargo-Moorhead Trades and Labor Assembly. (KW)
107 min • CineManifest / New Front Films • 16mm from Citizen Cinema, Northern Pictures, and the State Historical Society of North Dakota, permission from The Metrograph

---
Wednesday, March 6 @ 7:30 PM / NEIU
SYMBIOPSYCHOTAXIPLASM: TAKE ONE
Directed by William Greaves • 1968
Responsible for hundreds of documentaries primarily focused on African-American history and culture, William Greaves is probably best known to contemporary audiences for a trippy, bizarrely titled film about the making of a film about the making of a film that was never intended to be a film. Symbiopsychotaxiplasm: Take One finds the Actors Studio-trained Greaves at work in Central Park hauling around a bulky 16mm rig to shoot an absurdly written argument between a couple that will soon be repeated by numerous performers in numerous cadences. Meanwhile, Greaves's young, bedraggled crew, seemingly left in the dark by the director, begin directly addressing their grievances with the project to another crew filming concurrently. Collapsing boundaries between on- and off-screen action and calling into question the documentary veracity of his own film, Greaves whittled down untold hours of footage collected by the exacerbated women and men working alongside him into a 70-odd-minute avant-garde crowd-pleaser that's as exuberant as it is confounding. A dormant cult item, Greaves's would-be landmark languished under the radar for years, playing sporadic one-off screenings before being officially released decades after it was shot and becoming a touchstone for a generation of adventurous cinephiles. (CW)
75 min • Take One Productions • 35mm from Janus Films
Short: TBD

---
Wednesday, March 13 @ 7:30 PM / NEIU
CHRISTOPHER STRONG
Directed by Dorothy Arzner • 1933
Self-confessed devoted husband of many years and all-around square Sir Christopher Strong (Colin Clive, aka Henry Frankenstein) and self-confessed forever loveless aviatrix and all-around thrill ride Lady Cynthia Darrington (Katharine Hepburn) meet at a scavenger hunt party where their lifestyle choices qualify them as hard-to-find items. But promises are made and broken in Christopher Strong faster than you get your jodhpurs off and once Sir Strong sees Lady Darrington in her sexy silver lamé moth costume (complete with antennae!) they both quickly renege on any previously stated positions. When their affair begins to take its toll on Strong's wife (Billie Burke foreshadowing future Glinda the Good Witch), Lady "Scandal isn't your dish Chris" Darrington hopes the aviation equivalent of a long cold shower – a trip round the world – will prevent the breakup of Chris's happy home. Dorothy Arzner's scandalous pre-Code tale of love and infidelity couldn't possibly end with anything less than total emotional devastation, though, so fasten your seatbelts. Featuring Helen Chandler as Strong's bratty-to-the-brim daughter and enough costume changes to crack your altimeter. (RL)
78 min • RKO Radio Pictures • 35mm from Library of Congress
Short: Ruth Etting in "Along Came Ruth" (Joseph Henabery, 1933) – 20 min – 35mm

---
Saturday, March 16 @ 11:30 AM / Music Box Theatre
FRAGMENT OF AN EMPIRE
Directed by Fridrikh Ermler • 1929
Live accompaniment by Music Box house organist Dennis Scott
An amnesiac soldier from Petrograd stumbles home from the eastern front after the First World War and finds a new and unrecognizable society awaiting him. His hometown is now Leningrad, and that's the least of it: workers' unions, modernist architecture, and new understandings of sex and marriage roil the landscape. (The title refers to people who recite all the right slogans but shuffle around like ghosts of the old order.) Fragment of an Empire is social history rendered as science fiction—a conceit that allows the film to explain the Soviet Union to itself and the wider world. An exceedingly nuanced work, Ermler's film is the rare artifact of Soviet cinema that might find equally fervent admirers from the ranks of DSA activists and Hoover Institution fellows: Fragment of an Empire takes the Russian Revolution and its toll on newly minted comrades seriously, giving equal weight to the excitement and the dislocation, the promise of a new society and the cataclysm of everyday life. Much admired in its day but long since consigned as another unadorned title in the film history books, Fragment of an Empire has been restored to its rapid-fire, emotional grandeur. Restoration by the San Francisco Silent Film Festival and EYE Filmmuseum in partnership with Gosfilmofond of Russia. (KW)
109 min • Sovkino • 35mm from SFSFF Collection, Library of Congress
Short: [San Francisco After the Earthquake] (Miles Brothers, 1906) – 9 min – 35mm from SFSFF

---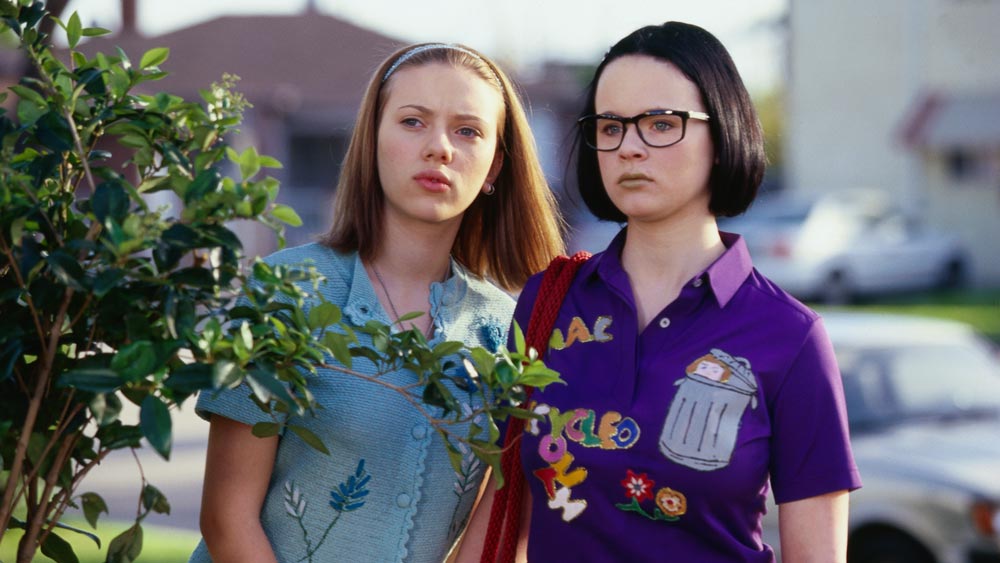 Monday, March 25 @ 7:00 PM / Music Box Theatre
GHOST WORLD
Directed by Terry Zwigoff • 2001
Hey, creeps, losers, and weirdos—have we got the movie for you! Adapted by Daniel Clowes and Terry Zwigoff from the former's underground graphic novel, Ghost World remains the definitive portrait of post-high school ennui, quarter-age disaffection, and the everyday oppression thrust upon us by other people. Best friends Enid (Thora Birch) and Becky (Scarlett Johansson) are finally ready to find a place of their own amid the strip malls of greater Los Angeles, but their mutual contempt for goody-two-shoes classmates, extroverted pseudo-bohemians, and yuppie 'zine entrepreneurs may not be sufficient to bridge their increasingly divergent values. The greatest stumbling block is Seymour (Steve Buscemi, his career best), the self-loathing record collector who sets Enid's heart aflutter and sends Becky rushing to get a job. A gallery of hilarious and cantankerous caricatures (Struggling Artist Foundation grantee Illeana Douglas is an especially memorable creation), Ghost World is a peak of irony-drenched, pre-9/11 American indie cinema, pitched to W.C. Fields Fan Club members everywhere. We memorized every line of this tender firecracker as teenagers and can't believe it's finally reached the age of majority; only a complete tool would prefer Mirror, Father, Mirror and The Flower That Drank the Moon. (KW)
111 min • United Artists • 35mm from Park Circus
Short: "Cartoon Girl" (Heather McAdams and Chris Ligon, 1995) – 12 min – 16mm

---
Saturday, April 6 @ 6:00 PM / Chicago Filmmakers
TV on FILM 2
Back by popular demand, CFS presents a simulated four-hour television broadcast complete with commercial breaks. Until the early 1980s, the vast majority of prerecorded television content was sourced from 16mm prints, projected live for an audience of thousands. Running 70mm Roadshows at the State-Lake may have been the most prestigious projection job in Chicago, but a 16mm television projectionist had a far wider per-show reach. True to form, TV on Film features everything from the sublime to the stupid. Our program includes the widely syndicated kids segment Chatter's World, starring Chatter the Chimp, the horrifying microwave cooking infomercial Richard Deacon Does It in the Kitchen, pre-Munsters Fred Gwynne in Car 54 Where Are You?, plus game shows, sitcom favorites, The Chicago Teddy Bears, and Michael Cimino's shortest film. Come and go as you please or plop down for the entire program. (JA)
Approx 4 hours • Various Networks and Studios • All 16mm from Chicago Film Society & Private Collections

---
Saturday, April 13 @ 11:30 AM / Music Box Theatre
HIS NIBS
Directed by Gregory La Cava • 1921
Vaudeville star Charles (Chic) Sale was already well-known as America's foremost interpreter of rustic tomfoolery when he transitioned to the silent screen with His Nibs. Originally begun as a straight adaptation of Irvin S. Cobb's short story "The Smart Aleck," His Nibs eventually became something else entirely—a comedy about the Slippery Elm Picture Palace that serves as a sloppy, starstruck valentine to rural cinema exhibition. Sale plays no less than seven different characters, including Slippery Elm proprietor and projectionist Theo "His Nibs" Bender, theater organist Miss Dessie Teed, and The Boy, star of this week's attraction, He Fooled 'Em All. Colleen Moore plays Sale's costar in this film-within-the-film, but the His Nibs marketing campaign focused exclusively on Sale and touted his versalite ability to play so many distinct characters, "probably for the first time in the history of the industry." (Buster Keaton had over twenty parts in his two-reeler The Playhouse, released three weeks prior to His Nibs, but who's counting?) Sale is capably guided by director Gregory La Cava, himself transitioning to live action after several years of making animated cartoons under the Hearst banner. Together they concocted a surprisingly rigorous hick comedy that, per film scholar Richard Koszarski, "suggests Pirandello more than Sennett or Roach." (KW)
56 min • Exceptional Pictures • 35mm from UCLA Film & Television Archive
Cartoon: Happy Hooligan in "He Tries the Movies Again" (Gregory LaCava, 1916) – 2 min – 35mm from George Eastman Museum
Preservation of "Happy Hooligan" funded by the Save America's Treasures Grant, generously supported by the National Park Service in partnership with the National Endowment for the Humanities

---
Wednesday, April 17 @ 7:30 PM / NEIU
POWER OF THE PRESS
Directed by Lew Landers • 1943
The editor of the New York Gazette experiences a crisis of conscience and prepares to renounce his tabloid's isolationist slant, but an assassin's bullet intervenes before he can speak truth to power. The Gazette is willed to one Ulysses Bradford (Guy Kibbee), a newspaper man of unusual integrity hitherto dedicated to raising the civic discourse among the good people of Hiawatha, Nebraska. He's brought to New York by Edwina "Eddie" Stephens (Gloria Dickson), the deceased editor's no-nonsense girl Friday with an agenda of her own, and immediately clashes with Griff Thompson (Lee Tracy, snarling veteran of countless pre-Code newspaper comedies), the ambitious managing editor whose quest for the scoop blinds him to larger political realities. This ink-for-brains B picture is barely over an hour and subsists on a handful of sets, but it overflows with rhetorical fireworks, righteous speechifying, and patriotic patois. Several flourishes—"Freedom is dynamite and has to be handled with care!"—are instantly identifiable as the knuckleheaded Americanisms of screenwriter Samuel Fuller, who submitted a treatment for Power of the Press before enlisting in the Army; the finished film adds topical references to Himmler and fifth column factions, but it stands beside Park Row as a stirring tribute to journalism's place in a democratic society, complete with a prescient denunciation of "fake news." (KW)
64 min • Columbia Pictures • 35mm from Sony Pictures Repertory
Introduced by Chicago Tribune columnist and WGN Radio host Rick Kogan

SPECIAL SHORT SUBJECT – World Premiere of New 35mm Print!
THE EDITOR'S NOTEBOOK
Directed by Orlando Lippert • 1950
A sponsored film from Wilding Picture Productions made on behalf of the Chicago Daily News in its Pulitzer Prize-winning heyday, The Editor's Notebook mixes documentary footage and staged recreations to illuminate and explain the work of the Daily News and the importance of a free press in American democracy. Our guides are two fictional Daily News employees: Len the dogged reporter (Kirby Grant) and Dave the fearless photographer (Frank Dane). The film also finds time to include lengthy remarks from editor-in-chief John S. Knight on the moral and social obligations of the Daily News, as well as a concise history of the publication and a recap of recent major scoops broken by the paper. Special attention is paid to the Daily News' skid row exposé and the paper's efforts in uncovering a classic Springfield scheme that placed rival newspapermen on the state payroll. Local industrial film company Wilding Picture Productions was at its apex when it made The Editor's Notebook, turning out over a hundred films per year for numerous corporate client from the site of the former Essanay Studios that was briefly home to Charlie Chaplin. (KW)
28 min • Wilding Picture Productions • 35mm from CFS Collections
Preserved by Chicago Film Society with the support of the National Film Preservation Foundation. Additional material courtesy of the Library of Congress.


---
Sunday, April 21 @ 7:00 PM / Music Box
EASTER PARADE
Directed by Charles Walters • 1948
When Broadway star Fred Astaire gets dumped by his current dancing partner, he sets out to make a dancing star out of the next person he sees, which happens to be Judy Garland. Despite the relatively breezy plot, Easter Parade has a palpable intensity culminating from years of studio pressure put on Judy Garland since her days as a child performer. Easter Parade is wired, and the film features some of Garland's best work (and Astaire's too), all the more impressive because it transcends the environment that created it – ironically, M-G-M billed it as "the happiest musical ever made." The last film Garland would make for musical maverick Arthur Freed (Singin' in the Rain, The Band Wagon), Easter Parade was M-G-M's highest grossing film of 1948 and Garland's most critically successful film until A Star is Born in 1954. With seventeen songs including "Steppin' Out with My Baby," "We're a Couple of Swells," and "It Only Happens When I Dance With You," which Irving Berlin wrote specifically for Judy Garland. (JA)
103 min • M-G-M • 35mm from Warner Brothers
Short: "Adventures of Bunny Rabbit" (Erpi Classroom Films, Inc., 1937) – 9 min – 16mm

---
Heartfelt thanks to Shayne Pepper, Michael Hines, Kyle Burke, Cyndi Moran, Robert Ritsema, Ernie Kimlin, Chris Rodriguez, & Asher Waldron of Northeastern Illinois University; Brian Andreotti & Ryan Oestreich of the Music Box Theatre; Brenda Webb, Sophie Mannaerts, & Patrick Friel of Chicago Filmmakers; Randy Andrews of Swank Motion Pictures; David Antos & Chris Omiotek; Brian Belovarac & Ben Crossley-Marra of Janus Films; Daniel Bish of the George Eastman Museum; May Haduong, Edda Manriquez, & Charles Rogers of the Academy Film Archive; James Bond of Full Aperture Systems; Antonella Bonfanti & Seth Mitter of Canyon Cinema; Andrew Bujalski; Jiayi Chen; Dennis Chong, Jesse Chow, Liam Berney, Jason Jackowski, & Eric Chin of Universal; Chris Chouinard of Park Circus; Neil Cooper; Steve Darnall; Jon Davison; Justin Dean; Justin Dennis of Kinora; Dino Everett of USC School of Cinematic Arts; Bill Francik; Katherine Greenleaf; Cary Haber of Criterion Pictures, USA; John Hanson; Amy Heller and Dennis Doros of Milestone Films; Jonathan Hertzberg of Kino Lorber; David Jennings and Kimberlee Granholm of Sony Pictures Repertory; Alo Joekalda & Hisashi Okajima of the National Film Archive of Japan; James Layton of the Museum of Modern Art; Steven Lloyd; Steven Lucy; Heather McAdams and Chris Ligon; Shane A. Molander of the State Historical Society of North Dakota; Anita Monga, Kathy Rose O'Regan, & Rob Byrne of the San Francisco Silent Film Festival; Bob Morrissey; Kristie Nakamura & Nicole Woods of Warner Bros. Classics; Rob Nilsson; Mike Quintero; Dennis Scott; George Schmalz of The Metrograph; Lynanne Schweighofer, Rob Stone, & Mike Mashon of the Library of Congress; Tommy Jose Stathes; Kiyan Warner; Nancy Watrous, Brian Belak, & Michelle Puetz of Chicago Film Archives; Todd Wiener & Steven K. Hill of UCLA Film & Television Archive; and Maxwell Wolkin of Film Movement.

And extra special thanks to our audience, who make it all possible!