Programmed and Projected by Julian Antos, Becca Hall, Rebecca Lyon, Kyle Westphal, and Cameron Worden.

Research Associate: Mike Quintero. Intern: Vincent Mollica. Additional Capsules: Julia Reinitz.
Our screenings are held at multiple venues around Chicago, including:

• The Auditorium at Northeastern Illinois University (inside of Building E)
3701 W. Bryn Mawr Ave., Chicago, IL 60625 — Directions • Campus Map
Tickets: General Admission: $7 • NEIU Students: $3
• The Music Box Theatre
3733 N. Southport Ave., Chicago, IL 60613 — Directions • Parking
Tickets: $10 or $11
• Chicago Filmmakers
5720 N Ridge Ave., Chicago, IL 60660 — Directions • Parking
Tickets: $8
• The Reva and David Logan Center for the Arts
915 E. 60th St., Chicago, IL 60637 — Directions • Parking
Free Admission
---
SEASON AT A GLANCE
MAY
Sat 5/4 at 11:30 AM ………….. Branding Broadway ……….. Music Box
Wed 5/8 at 7:30 PM ………….. Drifting Clouds ………….. NEIU
Wed 5/15 at 7:30 PM ………… He Ran All the Way ………… NEIU
Wed 5/22 at 7:30 PM ………… Finishing School ………… NEIU
Mon 5/27 at 7:00 PM ………… Mickey One …………… Music Box
Wed 5/29 at 7:30 PM ………… Crossing Delancey ………….. NEIU
JUNE
Wed 6/5 at 7:30 PM …………. Faces ………….. NEIU
Sat 6/8 at 11:30 AM …………. Hotel Imperial ………….. Music Box
Mon 6/10 at 7:00 PM ……….. Trust ………….. Music Box
Wed 6/19 at 7:30 PM ………. One of Our Aircraft is Missing ………….. NEIU
Wed 6/26 at 7:30 PM ………. Transatlantic ………….. NEIU
Sun 6/30 at Noon ………. Ornette: Made in America ………….. Logan Center
JULY
Wed 7/3 at 7:30 PM …………. Nude on the Moon ………….. NEIU
Sat 7/6 at 11:30 AM ………….. The Scarlet Letter ………….. Music Box
Wed 7/10 at 7:30 PM ……….. When Tomorrow Comes ………….. NEIU
Wed 7/17 at 7:30 PM ……….. Mo' Better Blues ………….. NEIU
Mon 7/22 at 7:00 PM ……….. The Florida Project ………….. Music Box
Wed 7/31 at 7:30 PM ……….. The Clock ………….. NEIU
AUGUST
Wed 8/7 at 7:30 PM ………… Merrily We Go to Hell ………….. NEIU
Sat 8/10 at 7:00 PM ……….. Always for Pleasure ………….. Filmmakers
Wed 8/14 at 7:30 PM ………. Every Which Way But Loose .….. NEIU
Sat 8/24 at 2:30 PM ……….. World City in Its Teens ………….. Music Box
Mon 8/26 at 7:00 PM ……….. Old Boyfriends ………….. Music Box
Throughout 2019, we celebrate the 50th Anniversary of the Jazz Institute of Chicago by celebrating the intersecting histories of the two great art forms 20th century: cinema and jazz music. Screenings this season include: MICKEY ONE, ORNETTE: MADE IN AMERICA, MO' BETTER BLUES, and ALWAYS FOR PLEASURE.
---
Saturday, May 4 @ 11:30 AM / Music Box Theatre
BRANDING BROADWAY
Directed by William S. Hart • 1918
Live organ accompaniment by Music Box house organist Dennis Scott
The popular Western actor-director William S. Hart was releasing films at such a gallop—1918 saw eight features and a half-reel short for the Liberty Loan Campaign in which Hart took a six-gun to the Kaiser—that studio marketers understandably emphasized novelty whenever possible. Hence Branding Broadway, the story of a Western rabble-rouser run out of Arizona on a rail and deposited in Manhattan to play bodyguard for a rich kid, was advertised as a gawky new opportunity to "See Bill Hart in Evening Clothes!" The formal get-up was surely old hat to Hart, born in Newburgh, New York, and a Broadway star long before he ever plied his trade on screen, but he understood the need to vary the product as much as any studio flack; he would also play an Aztec chieftain in The Captive God (1916) and a factory-foreman-turned-kidnapper in the labor drama The Whistle (1921). This proto-Coogan's Bluff finds time for unlikely romance, physical comedy, and a few saloon dust-ups, and remains a Hart film through-and-through. As Hart scholar Diane Koszarski has argued, "Hart's characteristic signature as an auteur is the glowing moral intensity of his films; it glimmers fitfully even in a light-hearted piece like Branding Broadway." (KW)
53 min • Paramount-Artcraft • 35mm from the Museum of Modern Art
Film Stock: Kodak 2383 (2005)
Short: "Angel of Hell's Kitchen" (a.k.a. "Mr. 'Silent' Haskins") (William S. Hart, 1915) – 10 min – 35mm from Library of Congress
---
Wednesday, May 8 @ 7:30 PM / NEIU
DRIFTING CLOUDS
Directed by Aki Kaurismäki • 1996
In Finnish with English subtitles
Each night after Ilona (Kati Outinen) finishes her shift as maître d' at Dubrovnik, the finest Cold War-era eatery in a relentlessly neoliberal world, she waits on the sidewalk for the tram. Its driver is her husband Lauri (Kari Väänänen), and their wee-hours rendezvous is among the cinema's humblest odes to the joys of marriage and public transportation. Alas, both Ilona and Lauri are laid off within the first reel of Drifting Clouds, and their earnest efforts to regain dignity and cash flow form the backbone of this scrappy and unassuming comedy from singular Finnish filmmaker Aki Kaurismäki. (Alas, their pooch Pietari can't chip in, though we would hire him in a second.) A gentle critique of modern consumer society that registers equal exasperation for well-honed tropes of labor exploitation and blockbuster moviemaking, Drifting Clouds plays like a deadpan reimagining of a pre-Code unemployment romance. "It has always been my secret ambition to make films that the viewer walks out from feeling a little happier than when entering the cinema," said Kaurismäki "With this subject it was imperative … I had to find optimism without losing grip on reality, make modern neorealism in color." (KW)
97 min • Sputnik Oy • 35mm from Finnish Film Foundation, permission Janus Films
Film Stock: Eastman LPP (1996 Acetate, Made in France)
Short: "Rocky VI" (Aki Kaurismäki, 1986) – 9 min – 35mm from the Finnish Film Foundation
---
Wednesday, May 15 @ 7:30 PM / NEIU
HE RAN ALL THE WAY
Directed by John Berry • 1951
Nick Robey (John Garfield) is a bumbling petty criminal who shoots a cop during a payroll holdup gone horribly wrong. Poor Peg (Shelley Winters) meets Nick at a public pool and takes him home only for her whole family to end up his hostages while he hides from police. This noir-cum-home invasion thriller, made just after the height of the House Un-American Committee's terror in Hollywood, featured a coterie of soon-to-be-blacklisted talent: director John Berry, writing team Dalton Trumbo and Hugo Butler, and, of course, leading man Garfield. Most would rebound in the more liberal cultural climate of the 1960s and '70s and deliver some of their most memorable work under their own names: Berry would direct Claudine, Butler would write the infamous Legend of Lylah Claire, and Trumbo would break the black list with the one-two punch of Exodus and Spartacus. Alas, there would be no happy ending for Garfield; He Ran All the Way was his last film before his death at age 39 from a heart attack, possibly from HUAC-induced stress. No wonder the film is so concerned with issues of trust. Who can you rely on when you're all in danger? How do you protect the ones you love in moments of trial and duress? (JR)
77 min • United Artists • 35mm from Park Circus
Film Stock: Eastman B+W (1996 Acetate)
Short:"In Our Hands, Part 1: How We Got What We Have" (Wilding Picture Productions, 1950) – 21 min – 16mm
---
Wednesday, May 22 @ 7:30 PM / NEIU
FINISHING SCHOOL
Directed by George Nichols, Jr. & Wanda Tuchock • 1934
From Reefer Madness to Spring Breakers, youthful depravity has remained as evergreen a topic as any broached with consistency by the American cinema. Before either of these, there was Finishing School, a half-comedic debauch, half-earnest melodrama that could have only been made in the pre-Code era, several orders of magnitude more sensitive than the kids-aren't-alright social problem pictures it superficially resembles. Frances Dee stars as Virginia Radcliff, sent away by her class conscious parents to the tony Crockett Hall where she's assigned to room with horse-obsessed wild child named Pony (a scene-stealing Ginger Rogers). When Pony convinces her to come along on an unchaperoned trip to the city to enjoy pleasures libational and carnal, Virginia falls into the arms of dreamy intern Mac, working nights at a hotel to pay the bills until he finishes med school, and becomes embroiled in a romance that could see her expelled from school. The sole feature directing credit for screenwriter Wanda Tuchock (along with Dorothy Arzner, one of only two women credited with directing a Hollywood picture in the 1930s), Finishing School would prove to be one of the last films made before enforcement of the Hays Code became de rigueur, as frank and compassionate a look at the sex lives of women as American moviegoers would see for some time. (CW)
73 min • RKO Radio Pictures • 35mm from Library of Congress, permission Warner Bros.
Film Stock: ORWO Lab: Library of Congress
Short: The Three Stooges in "Men in Black" (Raymond McCarey, 1934) – 18 min – 16mm
---
Monday, May 27 @ 7 PM / Music Box Theatre
MICKEY ONE
Directed by Arthur Penn • 1965
Mickey One is on the run! Two years before the release of Bonnie and Clyde, Arthur Penn directed what is still considered a relatively obscure and underseen stylish jazz-fueled head trip shot on location on the streets of Detroit and Chicago. Warren Beatty flexes his beautiful muscles in a classic Beatty-role of a fast-talking narcissistic stand-up comic on the run from the mob. His fears (real and/or imagined) of faceless pursuers launches him into a frightening and seemingly endless game of hide-and-seek filled with dead ends, sinister soup kitchens, shady characters of all sorts, and a monstrous Rube Goldberg contraption (operated by Kamatari Fujiwara) in front of Marina City that will spin your head. Sometimes written off as a pretentious French New Wave knock-off, Mickey One can nevertheless count Martin Scorsese and Joe Dante among its crusaders, the latter describing it as "one of the most influential movies of my youth." Enigmatic at its best, don't try too hard to solve the riddles of this wacked-out urban odyssey lest they come after YOU next. Featuring a brilliant jazz score by composer Eddie Sauter and saxophonist Stan Getz and shot by frequent Bresson-collaborator cinematographer Ghislain Cloquet (Au Hasard Balthazar, Tess). (RL)
93 min • Columbia • 35mm from Sony Pictures Repertory
Film Stock: Eastman B+W (1965)
Short: "The Cry of Jazz" (Ed Bland, 1959) – 34 min – 35mm Restored by Anthology Film Archives
Highly controversial on its release and still stunning, Chicago-born musician and composer Ed Bland's The Cry of Jazz directly addresses the effects of white culture on jazz music. Bland financed the film himself with savings from his job as a postal worker, and shot on 16mm with a mostly volunteer crew. Featuring a score by the then unknown Le Sun Ra & his Arkestra.
Presented with the Jazz Institute of Chicago as part of JIC's 50th Anniversary
---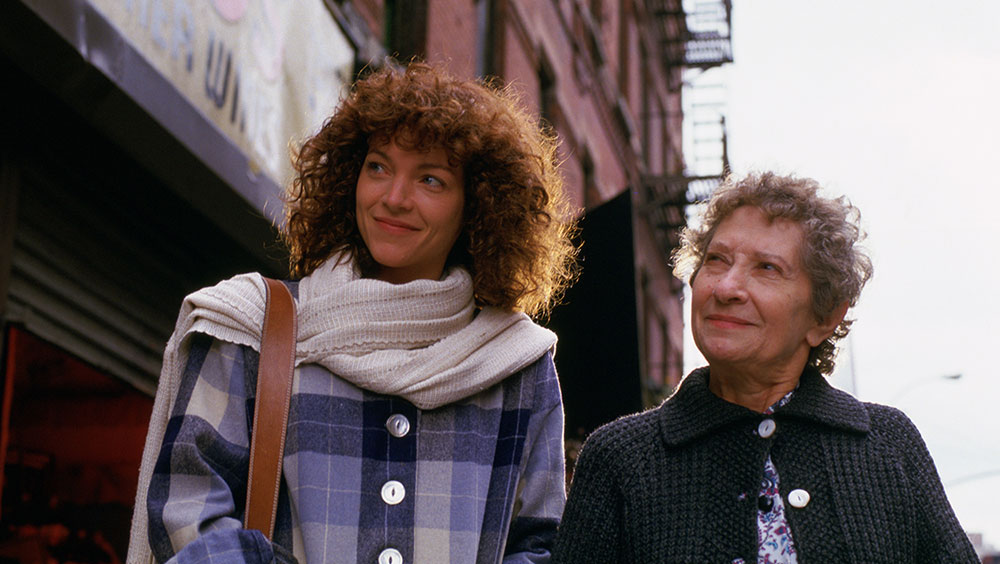 Wednesday, May 29 @ 7:30PM / NEIU
CROSSING DELANCEY
Directed by Joan Micklin Silver • 1988
Despite having three well-regarded features under her belt, Joan Micklin Silver had a hard time getting her fourth financed until Steven Spielberg helped shepherd this unpretentious romantic comedy to Warner Brothers. Amy Irving stars as Izzy Grossman, a hustling New York thirtysomething with a hip job at an uptown bookstore, a rent-controlled apartment, and the unlisted phone number of a Pulitzer Prize-winning author. Yet in the eyes of her unimpressed Bubbie (played by venerable stage actress Reizl Bozyk in her only screen role) she remains, "…like a dog. A dog should live alone, not people… a dog." Despite Izzy's protests, Bubbie and a matchmaker prescribe Sam, a handsome, kind, Lower East Side pickle pusher (played by Peter Riegert) as the cure for her obvious deficiency. Even while working within the confines of an often thankless genre, Silver continues a thematic through line with her 1975 period drama Hester Street – focusing on the tensions between Old World traditions and modern life – while simultaneously preserving in late-80s amber a loving portrait of a neighborhood clinging fiercely, and in hindsight somewhat futilely, to its identity. Sam would be in his sixties now, and here's hoping he retired before the pickle vendors below Delancey Street were replaced with a Papa John's. (RL)
97 min • Warner Brothers • 35mm from Warner Brothers
Film Stock: Eastman LPP
Short: "The Big Delivery Wagon" (Jerry Fairbanks, 1951) – 11 min – 16mm
---
Wednesday, June 5 @ 7:30 PM / NEIU
FACES
Directed by John Cassavetes • 1968
After being stung by a couple of personally disappointing studio outings, up-and-coming director John Cassavetes began work on a tiny project with a small group of friends, shot in his own home on grungy black-and-white 16mm film, financed with paychecks from acting jobs in studio pictures, and ultimately self-distributed, entirely circumventing the churn of the Hollywood film industry. The result of three years of production, Faces would turn out to be a breakthrough for Cassavetes, a refinement of the jagged, rough-hewn style his name would become synonymous with and a blueprint for the string of classics he would crank out in the ensuing decade. John Marley and Lynn Carlin play a married couple who, after a heated argument, spend one long night drinking and looking for new love. Husband Richard rushes off to Jeannie (Gena Rowlands), the prostitute who seems to be the only person capable of receiving his affection. Meanwhile, wife Maria picks up aspiring gigolo Chet (the recently departed Seymour Cassel, in his only Academy Award-nominated performance) while on the town with her girlfriends, taking him home for an encounter that runs the gamut on all emotions unutterable. Coupled with his trademark close-ups and willingness to let scenes play long enough to morph before our eyes, Cassavetes proves here that all that's needed to make a masterpiece is a heaping dose of feeling and a handful of good faces. (CW)
130 min • Continental Film Distributors • 35mm from American Genre Film Archive
Film Stock: AGFA
Short: "Optical Printer Test" (2014) – 2 min – 16mm
---
Saturday, June 8 @ 11:30 AM / Music Box Theatre
HOTEL IMPERIAL
Directed by Mauritz Stiller • 1927
Live organ accompaniment by Music Box house organist Dennis Scott
"Out of the riotous welter of war, love, and empire-shaking intrigue, roars this great melodrama—Hotel Imperial! Pola Negri's greatest by far!" bellowed Paramount, emphasizing the salability of a film they likely feared exhibitors would be too quick to dismiss as a specialty item. The height of Hollywood's polyglot cosmopolitanism from the most continental of studios, Hotel Imperial was based on a 1917 play from Hungarian writer Lajos Biro, directed by Swedish pioneer Mauritz Stiller, produced by German UFA exile Erich Pommer, and built around the peculiar glow of Polish star Pola Negri. The titular hotel stands as a bygone luxury in war-torn Galicia, with the Russian army advancing on Austro-Hungarian forces. An escaped Hussar (James Hall) finds refuge in the Hotel Imperial and poses as the establishment's butler with the help of housekeeper Anna (Negri), who must fend off the amorous advances of a Russian general (George Siegmann) and keep her eyes on an infamous spy (Michael Vavitch). Stiller had achieved immense success in Sweden with films such as Sir Arne's Treasure and The Saga of Gosta Berling, but it was seemingly only his involvement with the latter's breakthrough star, Greta Garbo, that brought him to the attention of M-G-M. His stateside career was a series of false starts, pilfered projects, and studio clashes; within a year of Hotel Imperial, he would return to Sweden and die at age 45. This, his only extant American feature, is a rare glimpse of a cinema too fragile to last. (KW)
85 min • Paramount Pictures • 35mm from Library of Congress, permission Paramount
Short: "Cartoons in the Hotel" (Raoul Barre, 1915) – 10 min – 16mm
---
Monday, June 10 @ 7 PM / Music Box Theatre
TRUST
Directed by Hal Hartley • 1990
If Frank Borzage had survived to see the end of the Reagan Era, hated television, took the gruff-but-gentle romance of Spencer Tracy and Loretta Young in Man's Castle and set it in suburban, blue collar Long Island in 1990, he might have made a movie something along the lines of Trust. Adrienne Shelly plays Maria Caughlin, a high school senior whose mother (Merritt Nelson) accuses her of killing her father. When she meets Matthew (Martin Donovan), an electronics whiz who can't hold down a job and lives alone with his abusive father, she's looking for a place to stay, and the two heroes quickly find they have something the other one needs. An unflinchingly independent filmmaker who has managed to survive at least two sea changes in independent filmmaking, Hal Hartley made his second feature for around $1 million. Hartley's signature use of highly stylized dialog and low-fi soundtrack, and Michael Spiller's empathetic cinematography, are almost hypnotic, and Trust is as moving, subversive, and funny as it was in 1990, simply the kind of movie we have to show to you. Trust screens in a new 35mm print commissioned by CFS, special thanks to Hal Hartley/Possible Films and to Kim Young and Doug Ledin of FotoKem. (JA)
107 min • Zenith Productions • 35mm from Chicago Film Society Collections, Permission Possible Films
Film Stock: Kodak 2383 (2018) Lab: FotoKem
Short: "Going Out of Business" (Christopher Gamboni, 1985) – 15 min – 16mm courtesy of the Reserve Film and Video Collection of The New York Public
Library for the Performing Arts. — This short film documenting the final days of film-splicer inventor Fred Griswold's historic factory in Long Island was described by Film Comment as "discreetly sentimental, but unsententious".
---
Wednesday, June 19 @ 7:30 PM / NEIU
ONE OF OUR AIRCRAFT IS MISSING
Directed by Michael Powell & Emeric Pressburger • 1942
When Royal Air Force bomber "B for Bertie" is hit by the Axis, her crew of six parachute to safety in the Dutch countryside, leaving the pilot behind. The survivors plot an escape with the help of the locals, only a few miles away from Nazi patrols. The fourth collaboration between Michael Powell and Emeric Pressburger was the first for their own production company "The Archers" and was conceived and shot as a piece of wartime propaganda for the British Ministry of Information. Like their previous film 49th Parallel, the filmmakers' best attempt at propaganda is an uncynical view of humanity trying to do its best in times of humanity doing its worst, never without a crucial sense of humor (this may be the only Archers' wartime production with crossdressing). One of Our Aircraft Is Missing carries all the weight of WWII by necessity, and becomes even more striking and paralyzing when one considers the proximity – both time and place – to the actual events portrayed. This was the last picture edited by David Lean before he began his directing career, and Peter Ustinov's first role in a feature film. Great things were to come from all involved. Preserved by the Library of Congress (JA)
102 min • British National Films Ltd. • 35mm from the Library of Congress
Film Stock: ORWO Lab: Library of Congress
"A closely knit, finely drawn melodrama that almost literally holds its breath. It never slackens its taut line of suspense for an instant." — The New York Times
Short: "They Fly Through the Air" (Owen Crump, 1952) – 12 min – 35mm Technicolor — For fans of aerial adventure, this "Sports Parade" segment showcases Navy parachuting in California in the early 1950s.
---
Wednesday, June 26 @ 7:30 PM / NEIU
TRANSATLANTIC
Directed by William K. Howard • 1931
Described by New York Times upon its release as a movie with "almost as many plots as it has officers," this pre-Code adventure on the high seas displays remarkable narrative and visual sophistication. The characters on board form a cross-section of society—retired lens grinder Jean Hersholt, his daughter Lois Moran, 'baggage smasher' Edmund Lowe, banker John Halliday, society lady Myrna Loy, gangster Earle Fox, et al.—that freely intersects and disconnects from scene to scene. Underrated stylist William K. Howard and cameraman James Wong Howe make the most of the cramped, Art Deco quarters, unfurling deep-focus compositions and endless tracking shots with casual aplomb. (For Dalton Trumbo, then reviewing new releases for The Hollywood Spectator, "James Howe's camera work is so far above the average that comparison is ridiculous.") No complete version of the American release survives, but this new reconstruction achieves more-than-seaworthy results by marrying the soundtrack of the US version with picture from French, Italian, and Spanish prints. As Transatlantic sat unseen for decades, it was often dismissively known as "Grand Hotel, but on an ocean liner." Now that Transatlantic has been restored, we may need to start referring to M-G-M's all-star showcase as "Transatlantic, but in a hotel." Restored by The Museum of Modern Art with funding provided by The Film Foundation, The George Lucas Family Foundation, and The Celeste Bartos Preservation Fund. (KW)
74 min • Fox Film Corp • 35mm from the Museum of Modern Art, permission Criterion Pictures, USA
Film Stock: Kodak 2302 (2018) Lab: Colorlab
Cartoon: "Land of the Midnight Fun" (Tex Avery, 1939) – 9 min – 16mm — This faux travelogue documents a steamer's trip from New York's harbor to Alaska and back, packing in a multitude of surreal sight gags and word play.
---
Sunday, June 30 @ Noon / Logan Center for the Arts Screening Room
ORNETTE: MADE IN AMERICA
Directed by Shirley Clarke • 1985
No musician has had a career quite like jazz pioneer Ornette Coleman, so it would only follow that no other musical documentary would trace the sort of freewheeling, sidewinding path that Ornette: Made in America takes. Framed around Coleman's return to his hometown of Fort Worth, Texas, for a performance of his seminal orchestral piece Skies of America, Ornette: Made in America moves through Coleman's life achronologically, touching on the innumerable transformations his music has undertaken and incorporating footage shot for an earlier abandoned Coleman documentary, Coleman's forays into the burgeoning music video field, and dramatic reenactments of scenes from Coleman's childhood. Pioneering independent filmmaker Shirley Clarke (Portrait of Jason), who would soon after find filmmaking impossible due to the onset of Alzheimer's disease, closes out her career on a high note, with a film that matches the restlessness of Coleman's music with a go-for-broke formal approach that eschews hagiography or verite austerity in favor of rewriting the documentary rulebook. (A bizarre video art digression involving a musical commission from NASA is something you would never see in a Maysles film.) An inveterate collaborator, Coleman for his part proves a game subject and a mirror to Clarke's own filmmaking practice, as open to the beauty and chaos alike wrought by total artistic freedom.
85 min • Caravan of Dreams Productions • 35mm from Milestone Films
Film Stock: Kodak 2383 (2012) Lab: FotoKem
Short: "Bridges-Go-Round" (Shirley Clarke, 1958) – 8 min – New 16mm print from Canyon Cinema — Made using rejected footage of New York City bridges intended for a series of film loops at the Brussels World Fair, Bridges-Go-Round breaks New York down to a city that appears almost extraterrestrial. In this preserved version of Bridges-Go-Round, the film is shown twice — first accompanied with music by Teo Macero, then with the original electronic score composed by Louis and Bebe Barro, which was originally unreleased due to copyright.
Presented with the Jazz Institute of Chicago as part of JIC's 50th Anniversary
---
Wednesday, July 3 @ 7:30 PM / NEIU
NUDE ON THE MOON
Directed by Doris Wishman • 1961
Nearly a decade before Neil Armstrong first stepped foot on the lunar surface, Miami rocket scientist Dr. Jeff (Lester Brown) embarked on a secret, self-funded mission to the moon, where deep within a remote crater he made perhaps the greatest discovery mankind has to date stumbled upon: a colony of buxom alien nudists! An exploitation dynamo and one of the most prolific female feature directors ever, Doris Wishman pumped out a cycle of achingly wholesome nudist pictures during the first half of the '60s; she prided herself on bringing invention and a certain lowbrow wit to a genre where traditional cinematic concerns were more often than not cast aside in favor of haphazardly shot prurience. Nude on the Moon would prove to be the most enduring of these films, a blissfully stupid lunar reverie where seemingly half the runtime is dedicated to cataloging the games and leisure activities of topless "moon nymphs" in a space utopia that suspiciously resembles Miami's iconic Coral Castle. Too often sloughed off as "the female Ed Wood," Wishman would prove to be massively influential in the world of avant-garde filmmaking, where her poverty-driven style and slapdash innovations would inspire filmmakers like George Kuchar and Peggy Ahwesh to pick up a camera, heedless of money or technical resources, and start filming their friends naked. (CW)
83 min • Moon Productions • 35mm from American Genre Film Archive
Film Stock: Unmarked Acetate, Lowfade
Short: "Hold Me While I'm Naked" (George Kuchar, 1966) – 17 min – 16mm from The Film-Makers' Cooperative — An array of scattered moments in the lives of a few characters, circling the basic premise of one man failing to make a low budget exploitation film. Rich with playfulness and diversions, from a fake bird sitting in a tree to flashing spots caused by holes in the film, Hold Me While I'm Naked is a prurient delight from start to finish.
---
Saturday, July 6 @ 11:30 AM / Music Box Theatre
THE SCARLET LETTER
Directed by Victor Sjöström • 1926
Live organ accompaniment by Music Box house organist Dennis Scott
A project instigated by Lillian Gish when the actress's stature and clout exceeded that of her collaborators both in front of and behind the camera, The Scarlet Letter is that rarest of things: a movie adapted from a great work of American literature that doesn't embarrass the source material. Indeed, this tale of adultery, hypocrisy, and mutilation purportedly reached the screen only because Gish's wholesome bona fides, not Nathaniel Hawthorne's literary reputation, assuaged church group skepticism. Gish stars as Hester Prynne, the Puritan woman whose affair with pastor Dimmesdale (Lars Hanson) brings an out-of-wedlock birth and the injunction that the adulterous wife be forced to wear a scarlet 'A' affixed to her dress. The director, Victor Sjöström, had made his reputation with Swedish classics such as Ingeborg Holm and Terje Vigen, and that seems to have been the main thing that recommended him for this quintessentially American story. (In the US, his name was Anglicized to Seastrom.) "The Swedish people are closer to what our Pilgrims were, or what we consider them to have been, than our present day Americans," mused Gish, who would work with Sjöström and Hanson again on The Wind. Beautifully photographed by Hendrik Sartov, who had spent much of the decade as D.W. Griffith's cameraman, The Scarlet Letter was a critical success that played for five months in New York but found little traction in the still-Puritan American Heartland. (KW)
100 min • M-G-M • 35mm from UCLA Film & Television Archive, permission Warner Bros.
Short: Felix the Cat in "Roameo" (Otto Mesmer, 1927) – 6 min – 16mm
---
Wednesday, July 10 @ 7:30 PM / NEIU
WHEN TOMORROW COMES
Directed by John M. Stahl • 1939
If virtually the entire corpus of Hollywood melodrama vanished overnight and had to be reconstructed from some representative specimens, John M. Stahl's cycle of big-budget Universal weepers—Back Street (1932), Only Yesterday (1933), Imitation of Life (1934), and this 1939 straggler—would be more than sufficient. Achingly sincere, undoubtedly earnest, and charged with a feeling for the precariousness of working people's lives, Stahl's films will make you think twice before using 'melodramatic' as an epithet ever again. Recent retrospectives at Cinema Ritrovata in Bologna and the Giornate del Cinema Muto in Pordenone attest that the re-evaluation of Stahl's career has only just begun. Derided in its time as a quick cash-in riding the coattails of Love Affair, When Tomorrow Comes came out five months later and did indeed find Irene Dunne and Charles Boyer playing impossible lovers once more. She's a hash house waitress and labor activist and he's a suave pianist who may as well be from another planet. Problem is, he's married and she'll never find "Solidarity Forever" in his arms. Like Magnificent Obsession and Imitation of Life, When Tomorrow Comes was later remade by Douglas Sirk in a glossy, widescreen, color version (Interlude), but their virtues are divergent and ultimately complementary. (KW)
90 min • Universal Pictures • 35mm from Universal
Film Stock: Kodak 2302 (2001)
Short: Assorted Musical "Soundies" – 10 min – 16mm
---
Wednesday, July 17 @ 7:30 PM / NEIU
MO' BETTER BLUES
Directed by Spike Lee • 1990
Forced to practice the trumpet while all the other neighborhood kids congregate at the dugout, Bleek Gilliam grows up to be the leader of a successful jazz quintet. The adult Bleek (Denzel Washington) is torn between two strong-willed women—schoolteacher Joie Lee and aspiring singer Cynda Williams—but his first love is, of course, his music, and the biggest threat to it all is Bleek's lingering loyalty to his manager and childhood friend (Spike Lee). For his follow-up to Do the Right Thing, Lee conceived a musical epic as expansive and misty as that breakthrough was tight and specific. Mo' Better Blues is ostensibly set in present-day New York, but the cavernous club sets and musty caricatures of showbiz hangers-on suggest something more stylistically promiscuous, with decades' worth of allusions and archetypes freely intermingling in an eternal cycle. (Wynn Thomas's production design is a stand-out and Ruth E. Carter's costumes likewise complicate any firm sense of period.) As always with Lee, Mo' Better Blues is stocked with memorable supporting turns (Denzel's bandmates include Wesley Snipes and Giancarlo Esposito) and enough swing-for-the-rafters digressions to remain vivid throughout. Lee's father, Bill Lee, wrote the score, performed by the Branford Marsalis Quartet. (KW)
130 min • Universal Pictures • 35mm from Universal
Film Stock: Eastman LPP (1990) Lab: Deluxe
Short: "All My Life" (Bruce Baillie, 1966) – 3 min – 16mm from Canyon Cinema — Travelling in Casper, California, Bruce Baille was struck by the beauty of the light in the area, and, wanting to finish a roll of Ansco film without the emotional drain of making a movie, shot a three minute pan of it before leaving. He then set the footage to Ella Fitzgerald's "All My Life", which he claimed as an inspiration for the film, using a scratchy recording to mimic how the song would sound when he listened to it at a friend's cabin with "a potato sack over the speaker". The result is what Baille considered one of his strongest films and which New York Times critic Manohla Dargis described as "one of the most perfect films that I've ever seen".
Presented with the Jazz Institute of Chicago as part of JIC's 50th Anniversary
---
Monday, July 22 @ 7 PM / Music Box Theatre
THE FLORIDA PROJECT
Directed by Sean Baker • 2017
Director Sean Baker in person!
This widescreen, candy-colored-but-never-sugar-coated marvel makes us want to visit the Sunshine State like no movie since Kelly Reichardt's River of Grass. The Florida Project is a clear-eyed tour of Kissimmee, a land of bed bug-infested residential motels sprung up on the highway in the shadow of Walt Disney World, where outfits like the Magic Castle Motel are held upright by worn-out working men like Bobby (Willem Dafoe), a combination manager, sheriff, and surrogate father figure, too stoic to let his own disappointments reveal themselves to his guests. An unvarnished work about people living on the margins and continually flirting with homelessness, incarceration, and Child Protective Services, The Florida Project could fit snugly within a classic 'social problem film' framework of an earlier generation, but writer/director/editor Sean Baker's celluloid north star is Hal Roach rather than Stanley Kramer. Six-year-old Moonee (Brooklynn Prince) could hold her own with Our Gang any day of the week, whether she's spitting on cars over a railing or accidentally setting abandoned buildings ablaze. Her mother Halley (Bria Vinaite) ekes out a living hawking wholesale perfume to befuddled tourists, but her increasingly desperate circumstances dictate a new approach that flies mercifully over Moonee's head. This unassuming film is so rigorous in maintaining its child's-eye-view that the eventual rupture is heartbreaking beyond words. Gorgeously photographed in 35mm by Alexis Zabe, who learned a thing or two about keeping up with kids as they run through overgrown brush while shooting Carlos Reygadas's Post Tenebras Lux, The Florida Project was initially distributed as a DCP-only title; we are proud to present the Chicago premiere of this unique print. (KW)
112 min • A24 • 35mm from A24
Film Stock: Kodak 2383 (2018) Lab: FotoKem
Short: Our Gang in "The First Round Up" (Gus Meins, 1934) – 20 min – 16mm — In this installment of Our Gang, the titular group of children decide to go down a nearby creek and picnic for the night, inspired by a poster for Rocky Mountain Resort featuring two cowboys camping. However, their attempts at this adult outing are rife with failures and mishaps, culminating in a series of horrific visions of monsters in the night. This short was personally selected by Sean Baker, director of The Florida Project.
---
Wednesday, July 31 @ 7:30 PM / NEIU
THE CLOCK
Directed by Vincente Minnelli • 1945
Introduced by Chicago Tribune film critic Michael Phillips!
Secretary Alice Mayberry (Judy Garland) meets Corporal Joe Allen (Robert Walker) on his brief leave from the service and the two fall in love while wandering around New York City, visiting Central Park, and delivering milk in the wee hours with James Gleason. Can they forge a future before Joe ships out again? As if no one had noticed that Garland's musical chops in The Wizard of Oz and Meet Me in St. Louis would have been worthless without her achingly precise emotional sincerity to back up the songs, M-G-M touted The Clock as her first straight "dramatic" role. Likewise a departure for musically-minded producer Arthur Freed and director Vincente Minnelli (who would marry Garland the year after filming this romantic landmark), The Clock shows off Hollywood's toniest studio in a comparatively modest and amicable mood. A small-scale, precisely calibrated, black-and-white movie with a near-gimmick narrative constraint, The Clock was a B picture by M-G-M standards (if not by anyone else's—they built a studio replica of Penn Station for the occasion!) and benefits immeasurably from a concomitant lack of studio pressure. (KW)
91 min • M-G-M • 35mm from Warner Bros
Film Stock: AGFA
Short: Judy Garland clip reel – 15 min – 16mm
"THE CLOCK is the kind of picture that leaves one with a warm feeling toward his fellow-man, especially toward the young folks who today are trying to crowd a lifetime of happiness into a few fleeting hours" — The New York Times
---
Wednesday, August 7 @ 7:30 PM / NEIU
MERRILY WE GO TO HELL
Directed by Dorothy Arzner • 1932
Taking its name from the "overboard-drinking era" of prohibition, Merrily We Go To Hell moves smoothly from farce to tragedy telling the story of a young socialite Joan (Sylvia Sidney) and her toxic romance with alcoholic playwright Gerry (Fredric March). After marrying, the couple overcome Gerry's alcoholism before being faced with the reemergence of his old girlfriend. Their marriage is thrown into chaos as Gerry returns to drinking and becomes increasingly callous toward Joan, climaxing in a relentless final act, including a brief attempt at polyamory (allowing a small role for a young Cary Grant). Almost unreleased by the film's studio, the film was a box office success as well as director Dorothy Arzner's final film with Paramount. Lightly written off as a conventional domestic comedy-drama at the time, Arnzer's direction and Sidney's performance make for great cinema. At its lightest the film carries a palpable sense of warmth, most notable in unexpected bouts of singing and dancing, or of the film's Merry Melodies-esque opening credits. As it pivots to drama, Sidney responds to her husband's cruelty with a poignant display of heartbreak and tough resolve, especially as the relationship itself becomes more complicated and her motivation more muddy. Years later, academic Pam Cook cited the film as an example of Arzner's ability to show the "problem of the desire of women caught in a system of representation which allows them at most the opportunity of playing on the specific demands that the system makes on them." (VM)
78 min • Paramount Pictures • 35mm from Universal
Film Stock: Kodak 2302 (2009) Lab: Triage
Cartoon: "Russian Lullaby" (Fleischer Studios, 1931) – 6 min – 16mm
---
Saturday, August 10 @ 7 PM / Chicago Filmmakers
ALWAYS FOR PLEASURE
Directed by Les Blank • 1978
As the title suggests, Les Blank's Always for Pleasure, a loving portrait of New Orleans street life during Mardi Gras, St. Patrick's Day, and the New Orleans Jazz Fest, is an exercise in the total joy of being alive, punctuated by the most life-affirming funeral you've ever seen on film, and with more color and joy in its opening credits than most films have in their entire runtimes. Collaborating with New Orleans jazz photographer Michael P. Smith to gain access to local musicians and locations, Blank captured live performances from Professor Longhair, The Wild Tchoupitoulas, the Neville Brothers, Allen Toussaint, and Kid Thomas Valentine — but the real star of the show is the Big Easy itself, sweating and dancing in the streets. A filmmaker who was interested in everything and notoriously reluctant to set his camera down for fear of missing something, Blank also perfected the art of capturing food on film without making it seem gross — among Always for Pleasure's many wonderful diversions is a lesson on how to eat crawfish at Frankie and Johnny's. (JA)
58 min • Les Blank Films • 16mm from Les Blank Films
Short: "Dizzy Gillespie" (Les Blank, 1964) – 20 min – 16mm
Presented with the Jazz Institute of Chicago as part of JIC's 50th Anniversary
---
Wednesday, August 14 @ 7:30 PM / NEIU
EVERY WHICH WAY BUT LOOSE
Directed by James Fargo • 1978
It shouldn't have taken the broader American filmgoing world until The Mule (or The 15:17 to Paris or Jersey Boys or Hereafter) to catch onto Clint Eastwood's goofball iconoclasm. For evidence that Clint's been a big weirdo all along, one need look no further than Every Which Way but Loose, a hard-won passion project for the movie star-mogul that would turn out to be the commercial apex of his acting career. Eastwood stars as the truck-driving, bare-knuckle-brawling, beer-swilling Philo Beddoe, big-hearted, bubble-headed, and a far cry from the nihilistic rage of Harry Callahan. In between hastily organized street fights, Philo drinks his nights away at a local honky-tonk, where he catches a glimpse of itinerant country songstress Lynn Halsey-Taylor (Sondra Locke, forever Clint's greatest foil). When Lynn disappears, Philo goes on the road to find her, accompanied by his brother Orville (Geoffrey Lewis), Orville's girlfriend Echo (Beverly D'Angelo) and, most famously, Philo's best friend Clyde, a rowdy, Oreo-loving orangutan, running afoul of a Nazi biker gang and an ornery LAPD officer in the process, leading to the sort of chaotic pile-ups of pummeled torsos and motor vehicles that could be called the embodiment of cinema. Despite being savaged by critics in its day, Every Which Way but Loose has weathered the years better than most contemporaneous box office smashes, a film as sweet, silly, warm, and, yes, Great as it is inexplicable. Note: This exceedingly rare print has slightly faded color. (CW)
114 min • The Malpaso Company • 35mm from Private Collections, permission Warner Bros.
Film Stock: Eastman (France, 1978)
Short: Rolling South (Southern Railroad, 1979) – 16min – 35mm
---
Saturday, August 24 @ 2:30 PM / Music Box Theatre
WORLD CITY IN ITS TEENS: A REPORT ON CHICAGO
Live organ accompaniment by Music Box house organist Dennis Scott
Directed by Heinrich Hauser • 1931
Audiences flocked to flapper comedies and epic spectacles, but with nearly a century's remove, the quintessential cinema genre in the late 1920s and early 1930s may well have been the city symphony—an international idiom that bluntly analogized the frenetic pace of modern urban life with celluloid montage. City symphonies run the gamut from the formalist triumphalism of Walter Ruttman's Berlin: Symphony of a Great City to the boundless experimentation of Dziga Vertov's Man with a Movie Camera, which isn't even content to profile a single metropolis! One especially neglected example is Heinrich Hauser's Weltstadt in Flegeljahren: Ein bericht über Chicago, which offers almost as many perspectives on the Windy City as its mouthful of a title has inspired variant English translations, among them World City In Its Teens, A World City Stretches Its Wings, and Metropolis at an Awkward Age. Hauser, a nomadic German writer and photographer, visited Chicago in 1931 and recorded a wide range of neighborhoods and conditions, fashioning a civic portrait both dazzling and bleak, sterling and sobering. Back home, the Berliner Borsen-Zeitung praised the film for its vision of "America stripped of illusions." For us, Hauser's film serves as a reminder of the longevity of Chicago's tangle of contradictions. (KW)
74 min • 35mm from EYE Filmmuseum
Short: "Halsted Street" (Conrad O. Nelson, 1931) – 12 min – 16mm from MoMA Circulating Film & Video Library
---
Monday, August 26 @ 7:00 PM / Music Box Theatre
OLD BOYFRIENDS
Directed by Joan Tewkesbury • 1979
Dianne Cruise (Talia Shire) can't make heads or tails of life after her divorce. A nervous breakdown and a collision with a concrete wall catapult her into self-reflection and like any sensible, recently dumped person, she takes her current troubles as a sign that she should track down some of her old flames. So begins the sole, long-unavailable theatrical feature directed by Nashville and Thieves Like Us screenwriter Joan Tewkesbury, a cracked, soapy psychodrama that continually threatens to break into being a romantic comedy (or vice versa), the likes of which would become effectively unimaginable at the close of the '70s. Dianne's romantic odyssey will see her digging ever further into her past, beginning with her college beau Jeff (Richard Jordan), now a commercial filmmaker, proceeding to the boorish rock 'n' roller she dated in high school (a tremendous John Belushi, given a chance to try out his Blues Brothers schtick under the most pathetic of circumstances) before eventually arriving at the home of her childhood sweetheart Lewis, where she meets his younger brother Wayne (Keith Carradine) and heedlessly, destructively inserts herself in the middle of a still-fresh family trauma. Structured around a series of Dianne's diary entries (a favorite tactic of screenwriter Paul Schrader, working here with his brother Leonard), Old Boyfriends indulges in a plethora of dead ends and weird digressions that a more conventional romantic melodrama would streamline out of existence, fully wallowing in the gooey pleasures and abject horrors of looking for true love. Long out of circulation and difficult to see, Old Boyfriends returns to Chicago in a brand new 35mm print courtesy of Rialto Pictures. (CW)
103 min • Embassy Pictures • New 35mm from Rialto
Film Stock: Kodak 2383 Lab: FotoKem
Cartoon: "Beware of Barnacle Bill" (Fleischer Studios, 1935) – 7 min – 16mm
---
Heartfelt thanks to Shayne Pepper, Michael Hines, Kyle Burke, Cyndi Moran, Robert Ritsema, Ernie Kimlin, Chris Rodriguez, & Asher Waldron of Northeastern Illinois University; Brian Andreotti & Ryan Oestreich of the Music Box Theatre; Brenda Webb & Sophie Mannaerts of Chicago Filmmakers; Patrick Friel; Randy Andrews of Swank Motion Pictures; David Antos & Chris Omiotek; Sean Baker; Brian Belovarac & Ben Crossley-Marra of Janus Films; Bret Berg & Sebastian del Castillo of American Genre Film Archive (AGFA); Harrod Blank of Les Blank Films; Kitty Cleary of the Museum of Modern Art Circulating Film & Video Library; Eric Di Bernardo of Rialto Pictures; Jenni Domingo of the Finnish Film Foundation; James Bond of Full Aperture Systems; Antonella Bonfanti & Seth Mitter of Canyon Cinema; Jiayi Chen; Dennis Chong, Jesse Chow, Liam Berney, Jason Jackowski, & Eric Chin of Universal; Chris Chouinard of Park Circus; Steve Darnall; Justin Dennis of Kinora; Julia Gibbs and Ben Ruder of the Film Studies Center, Katherine Greenleaf; Cary Haber of Criterion Pictures, USA; Hal Hartley & Christopher McChane of Possible Films; Amy Heller & Dennis Doros of Milestone Films; David Jennings & Kimberlee Granholm of Sony Pictures Repertory; Marleen Labijt, Carel Nelwan, & Fanny Baars of EYE Filmmuseum; James Layton & Katie Trainor of the Museum of Modern Art; Steven Lloyd; Sean McDonnell of A24; Kristie Nakamura & Nicole Woods of Warner Bros. Classics; Rob Nilsson; Heather Ireland Robinson and Adriana Prieto of the Jazz Institute of Chicago; Dennis Scott; Lynanne Schweighofer, Rob Stone, & Mike Mashon of the Library of Congress; Sean Smalley & John Klacsmann of Anthology Film Archives; Tommy Jose Stathes; Kiyan Warner; Todd Wiener & Steven K. Hill of UCLA Film & Television Archive. Particular thanks to CFS research associate Mike Quintero, CFS board members Steven Lucy, Brigid Maniates, & Artemis Willis, and CFS advisory board members Brian Block & Andy Uhrich.
And extra special thanks to our audience, who make it all possible!