Programmed and Projected by Julian Antos, Becca Hall, Rebecca Lyon, Kyle Westphal, and Cameron Worden.

Research Associate: Mike Quintero. Intern: Clayton Mills. Additional Capsules: Julia Reinitz, Vincent Mollica
Our screenings are held at multiple venues around Chicago, including:
• The Auditorium at Northeastern Illinois University (inside of Building E)
3701 W. Bryn Mawr Ave., Chicago, IL 60625 — Directions • Campus Map
Tickets: General Admission: $7 • NEIU Students: $3
• The Music Box Theatre
3733 N. Southport Ave., Chicago, IL 60613 — Directions • Parking
Tickets: $10 or $11
• Chicago Filmmakers
5720 N Ridge Ave., Chicago, IL 60660 — Directions • Parking
Tickets: $8
• filmfront
1740 W. 18th St., Chicago, IL 60608 — Directions
Free Admission
• Cinema Borealis
1550 N Milwaukee Ave. — 4th Floor
$10 suggested donation
---
SEASON AT A GLANCE
SEPTEMBER
Wed 9/4 at 7:30 PM ………….. Counsellor at Law ……….. NEIU
Wed 9/11 at 7:30 PM ………… Lookout Sister ………….. NEIU
Sat 9/14 at 11:30 AM ………… For Heaven's Sake ………… Music Box
Wed 9/18 at 7:30 PM ………… Drive-In ………… NEIU
Fri 9/20 at 7:00 PM ………16mm Film Projection in the 21st Century …Cinema Borealis
Wed 9/25 at 7:30 PM ………… The Devil, Probably …………… NEIU
Mon 9/30 at 7:00 PM ………… Miracle Mile ……….. Music Box
OCTOBER
Wed 10/2 at 7:30 PM …………. Hell to Eternity ………….. NEIU
Wed 10/9 at 7:30 PM …………. Queen of Diamonds………… NEIU
Sat 10/19 at 1:30 PM …… Home Movie Day …… Chicago History Museum
Tues 10/22 at 7:00 PM ………. Jazz '34 ………. Music Box
Sat 10/26 at 11:00 AM ………. The Sideshow ………….. Music Box
Wed 10/30 at 7:30 PM …………. Ghost Catchers ………….. NEIU
NOVEMBER
Mon 11/4 at 7:00 PM ……….. Over the Edge …………. Music Box
Sat 11/9 at 11:30 AM ………….. The Signal Tower ……… Music Box
Wed 11/20 at 7:30 PM ……… Daniel ………….. NEIU
Sat 11/23 at 7:00 PM & 9:00 PM ……….. Louie Bluie ……… filmfront
Wed 11/27 at 7:30 PM ……….. Poppy ………….. NEIU
DECEMBER
Mon 12/2 at 7:00 PM ……….. Drumline ……… Music Box
Mon 12/9 at 7:00 PM ……… Peter Pan ……… Music Box
Sat 12/14 at 7:00 PM …… Jazz & the L.A. Rebellion …… Chicago Filmmakers
Throughout 2019, we celebrate the 50th Anniversary of the Jazz Institute of Chicago by showcasing the intersecting histories of the two great art forms 20th century: cinema and jazz music. Screenings this season include: LOOKOUT SISTER, JAZZ 34, LOUIE BLUIE, and the JAZZ AND THE L.A REBELLION shorts program.
---
Wednesday, September 4 @ 7:30 PM / NEIU
COUNSELLOR AT LAW
Directed by William Wyler • 1933
In an undisclosed suite near the top of the Empire State Building, Isabel Jewell performs triage at the switchboard for attorney John Barrymore while the law office of Simon & Tedesco bustles with sandwich deliveries, leftist radicals, and flirty paralegals. Raised in poverty, Barrymore charges his wealthy clients double to cover his pro bono work for struggling immigrants, but he faces disbarment for a mistake made early in his career and is too crazed with work to do anything as his marriage disintegrates at the hands of Melvyn Douglas. A devastating and sympathetic portrayal of a workaholic about to lose everything, Counsellor at Law captures the controlled chaos of the law office with a pin-sharp understanding of the pleasure and pain of running a business without sacrificing your ideals. Former lawyer and playwright Elmer Rice wrote the script, based on his play of the same name, and William Wyler applied the necessary pre-Code pressure, delivering a faithful 82-minute screen adaptation which is simultaneously gut-wrenching and exuberant. Initially considered miscast for a role that Paul Muni played on stage, Barrymore's natural patina of "you've-got-to-be-kidding-me" drunk exhaustion could not be more perfect. (JA)
82 min • Universal Pictures • 35mm from Universal
Short: Zasu Pitts and Thelma Todd in "The Soilers" (George Marshall, 1932) – 18 min – 35mm from Library of Congress
---
Wednesday, September 11 @ 7:30 PM / NEIU
LOOKOUT SISTER
Directed by Bud Pollard • 1948
R&B legend Louis Jordan stars as R&B legend Louis Jordan, a hard-charging and magnanimous professional who plays so many benefit concerts that he winds up in a sanitarium for overwork. With eleven songs crammed into a running time of just over an hour, Lookout Sister might merit the same diagnosis, but if this joyously ingratiating, loose-limbed musical is sick, then we don't want to be well. Jordan cameoed in two Hollywood features, but the core of his movie career is a trio of low-budget musicals produced by Astor Pictures for African American audiences. The final entry, shot while a real-life union contract dispute kept the band out of the recording studio, Lookout Sister finds the recuperating bandleader dreaming of wide-open spaces and ten-gallon hats, with Jordan and his Tympany Five ensemble reimagined as Two Gun Jordan and His Jivin' Cowhands. Two Gun has been brought out to Lookout, Arizona, by the sibling proprietors of the H & H Ranch ('H & H Means Health & Happiness') to save the property from an unscrupulous oil speculator. Jordan shows off his questionable riding skills, but the highlight is, of course, the music, including the singular "Barnyard Boogie" and the cold-blooded realism of "Don't Burn the Candle at Both Ends," with lyrics like "See your dentist twice a year / And stay away from root beer / But then again you might have bad luck / And walk out in the street and get hit by a truck." (KW)
63 min • Astor Pictures • 35mm from Library of Congress
Short: Louis Armstrong in "A Rhapsody in Black and Blue" (Aubrey Scotto, 1932) – 10 min – 35mm from Library of Congress, permission Cohen Media
Presented with the Jazz Institute of Chicago as part of their 50th Anniversary.
---
Saturday, September 14 @ 11:30 AM / Music Box Theatre
FOR HEAVEN'S SAKE
Directed by Sam Taylor • 1926
Harold Lloyd's iconic screen persona—the earnest innocent next door, forever striving to make good in a boisterous and vulgar world—gets a hilarious but impolitic update in For Heaven's Sake. The first of Lloyd's features to be distributed under a lucrative deal with Paramount, For Heaven's Sake casually flaunts the comedian's plenty in the caricatured form of J. Harold Manners, a stuffed-shirt scion who thinks nothing of dropping cash on a new car to match his trousers, nor of walking away from the heap within ten minutes. But soon "the man with a mansion" meets "the miss with a mission," tossing Jobyna Ralston some scratch after destroying her foursquare father's coffee cart and inadvertently providing the seed money for a new parish. A relentless comedy that also finds room to shoehorn in born-again hoodlums, speakeasy socialites, and roadside mayhem in a double-decker bus, For Heaven's Sake remains unjustly obscure, sandwiched between The Freshman and The Kid Brother. A connoisseur's delight, it was perhaps best summed up by the historian William K. Everson: "Like all Lloyd films, it is constructed rather than written, and assembled rather than directed. But since there is virtually no plot, and the mechanical elements aren't strained in order to make a plot, it has a grace and fluidity that many Lloyds lack." (KW)
57 min • Paramount Pictures • 35mm from Harold Lloyd Entertainment
Short: "An Eastern Westerner" (Hal Roach, 1920) – 23 min – 35mm
Live accompaniment by Music Box house organist Dennis Scott
---
Wednesday, September 18 @ 7:30 PM / NEIU
DRIVE-IN
Directed by Rod Amateau • 1976
What may appear at first glance to be a mere regional American Graffiti impersonator, hoping to nab some leftover dollars from that 1973 cash cow, is, in fact, a little-seen rowdy ode to movies, moviegoers, and small-town Texas weirdos. Directed by the decidedly not-Texan Rod Amateau (also responsible for the pile of gross that is The Garbage Pail Kids Movie) and penned by Bob Peete (known for his writing on "Good Times"), Drive-In is a frenetic mess of characters and plotlines all crashing into one another eventually at The Alamo, a local drive-in screening "Disaster 76" (possibly the greatest action film never made). Energized by a soundtrack of nonstop country hits and swarming with mostly unknown Texan actors – though some may recognize character actors Trey Wilson, Bill McGhee, or future Playboy Bunny Ashley Cox – you may ask after the credits roll, "What actually happened in this film?" The answer is both nothing and everything. Complete with an attempted robbery, a hostage situation, a minor teenage feminist awakening, not one but two vans filled with delinquent teen gang members, and a gasp-inducing scene at the local roller rink, this film, to use the local parlance (as one must), "is busier than a belly dancer with a case of crabs." (RL)
96 min • Columbia Pictures • 35mm from Sony Pictures Repertory
Film Stock: Kodak 2383 (2011) Lab: Cinetech
Short: McQ: A Condensation (Unknown Artist, c. 1974) – 18 min – 35mm
---
Friday, September 20 @ 7 PM / Cinema Borealis
16mm FILM PROJECTION IN THE 21ST CENTURY
As a prelude to our 16mm projection workshop, CFS presents a selection of films shot and finished on 16mm within the past five years. "16mm Film Projection in the 21st Century" represents a wide range of workflows and aesthetics and includes films from North America and Europe, showcasing the beauty and possibilities of the medium.
Programmed by artist-run film lab founders Nicolas Rey of L'Abominable and filmprojection21 and Kevin Rice of Process Reversal.
Program to be followed by an informal discussion with the programmers on film exhibition in the 21st century.
A Distant Episode (Ben Rivers, 2015) 18 min – 16mm Scope
26 Pulse Wrought – Vol 1 (Andrew Busti, 2014) 3 min – 16mm
Prima Materia (Charlotte Pryce, 2015) 3 min – 16mm
Travel Stop (Mike Gibisser, 2018) 16 min – 16mm
The Sounding Lines Are Obsolete (John Price, 2009) – 10 min – 16mm
The Masked Monkeys (OJOBOCA, 2015) 30 min – 16m


Admission is free for workshop attendees, suggested $10 donation for members of the public.

---
Wednesday, September 25 @ 7:30 PM / NEIU
THE DEVIL, PROBABLY
Directed by Robert Bresson • 1977
In French with English subtitles
"The void around you makes the void within you." Robert Bresson uttered this characteristically koan-like pronouncement in an interview while in pre-production for The Devil, Probably. This would prove an apt distillation of a film French minors would be barred from seeing upon its release for fear of inspiring mass suicides. Trudging through a Paris fogged with political disillusionment, a group of youths for whom May '68 only existed as a forsaken generational myth try on various political and intellectual identities, finding all to be spiritually bereft. The chaotic center around which the rest of this clique moves, Charles takes his peers' disaffection to another level, shrugging off all the belief structures he's faced with, treating every woman who crosses his path as a potential sexual conquest, and only expressing engagement in the moments he spends planning his own death. A terrifyingly lucid portrait of a world undone by avarice, wanton environmental destruction, and the death of intellectual curiosity, Bresson's penultimate masterpiece diagnoses the fervor of discontent that pilots his young subjects as the only sane response to a world plagued evermore by a deep, cosmic sickness. Some things never change. (CW)
95 min • Sunchild / G.M.F. Productions • 35mm from The Film Desk
Film Stock: Fuji Lab: Eclair
Short: Short: "Whatever Happened to Honesty?" (Alfred Higgins, 1977) – 13 min – 16mm from Chicago Film Archives
---
Monday, September 30 @ 7:00 PM / Music Box Theatre
MIRACLE MILE
Directed by Steve De Jarnatt • 1988
Hip-to-be-square trombone player Harry (Anthony Edwards) and genuinely hip diner waitress Julie (Mare Winningham) meet cute at the La Brea Tar Pits, liberate a tank of lobsters, and plan a date after she gets off work at a quarter past midnight. The self-declared King of the Glenn Miller Impersonators naps too long and misses their date, but arrives at Johnie's Coffee Shop just in time to pick up a ringing pay phone. Wrong number—a panicked man in a North Dakota missile silo trying to warn his father of an imminent nuclear exchange. If it's not a prank, Harry has 70 minutes to find Julie, hire a freelance helicopter pilot, and escape to Antarctica with the night owls from Johnie's. This propulsive, real-time journey through nocturnal Los Angeles glows like an atomic Lite-Brite and gambols to the ambient drone of Tangerine Dream. Though it begins as a rom-com with a stealth agenda, this masterful and sharply funny thriller ultimately earns a place alongside such landmark social disintegration freakouts as Don Siegel's Invasion of the Body Snatchers, George A. Romero's Dawn of the Dead, and its East Coast contemporary, Spike Lee's Do the Right Thing. A legendary script that floated around Hollywood for a decade, Miracle Mile finally detonated in theaters in spring 1989, the last fallout of Cold War cinema. Tragically and inexplicably, writer-director Steve De Jarnatt's career would remain stuck in the TV tar pits, with this and Cherry 2000 his only features to date. (KW)
87 min • Hemdale Picture Corporation • 35mm from Park Circus
Short: "Journey to Tomorrow: Communication" (Fern Field, 1983) – 18 min – 16mm
---
Wednesday, October 2 @ 7:30 PM / NEIU
HELL TO ETERNITY
Directed by Phil Karlson • 1960
With considerable distance from its subject material, the World War II epic Hell to Eternity, directed by Chicago-born Phil Karlson (The Phenix City Story), marries a frank look at anti-Japanese hate in the United States with a patriotic "true" story. Based on the life of real soldier Guy Gabaldon (Jeffrey Hunter), whose own Mexican American heritage is eliminated from the film, Hell to Eternity divides evenly into two halves. The first part focuses on Gabaldon's experience growing up with a Japanese American adoptive family in the years leading up to World War II. The second depicts a gruesome campaign in which Gabaldon's ability to speak Japanese results in surrender. The film is one of remarkably few Hollywood films concerned with Japanese American life during WWII, and one of even fewer to address Japanese American internment camps. A brief, frank, scene in which Gabaldon sees his family carted away to concentration camps is especially shocking to watch in 2019. Indeed, Karlson spoke of his attempts to get his "little pieces of truth" into films, sneaking past a conservative studio, and he considered Hell to Eternity to be "one of his most important pictures." This was also the final film for silent era actress Tsuri Aoki, who plays Gabaldon's mother, as well as the final film featuring both her and her husband Sessue Hayakawa. (VM)
131 min • Allied Artists Pictures • 35mm from Chicago Film Society Collections, permission Swank
Short: Frank Sinatra in "The House I Live In" (Mervyn LeRoy, 1945) – 11 min – 16mm
---
Wednesday, October 9 @ 7:30 PM / NEIU
QUEEN OF DIAMONDS
Directed by Nina Menkes • 1991
While the Sundance brand is most closely associated with churning out Academy Award also-rans these days, Nina Menkes's Queen of Diamonds, which premiered at the film festival in 1991, is a reminder that the American independent cinema can be a lot of things outside of "quirky," namely "challenging" and "intensely personal." Made for the craft services budget of a film like Little Miss Sunshine, Menkes's first 35mm film and breakout feature found the director drawing on the work of Chantal Akerman to explore the rhythms of the life of a woman at work. Following the daily grind of Las Vegas blackjack dealer Firdaus, Menkes observes as Firdaus's life reaches a zenith of surreal, despairing nonchalance in the desolation of a Nevada desert dotted with cheaply furnished, linoleum-lined apartments, burned-out mobile homes, and dried-up lakes. Shot in a series of long takes with little of the connective ligature commercial cinema typically relies on, Queen of Diamonds piles on plot detours and unresolved mysteries with each new scene, wallowing in all the gaudy allure and sunburnt drudgery of life in the margins of Sin City. (CW) Restored by the Academy Film Archive and The Film Foundation, with funding provided by the George Lucas Family Foundation.
77 min • New 35mm Print from Academy Film Archive, permission Arbelos
Film Stock: Kodak 2383 (2019) Lab: FotoKem
Short: "Babobilicons" (Daina Krumins, 1982) – 16 min – 16mm from Canyon Cinema
---
Saturday, October 19 from 1:30 PM to 5:30 PM/Chicago History Museum
1601 N. Clark Street • Free Admission
HOME MOVIE DAY 2019
Co-presented by Chicago Film Archives.
Go down to the basement and dig out your Super 8 memories of that interminable trip to Idaho or that embarrassing 16mm footage of your mother's rockin' bat mitzvah and bring them to the Chicago History Museum on Saturday, October 19 for this year's edition of Home Movie Day. Jointly presented for the ninth year in a row by Chicago Film Archives and the Chicago Film Society, Home Movie Day offers Chicagoans the opportunity to gather together and share their celluloid histories. Home movies provide invaluable records of our families and our communities: they document vanished storefronts, questionable fashions, adorable pets, long-departed loved ones, and neighborhoods-in-transition. Many Chicagoans still possess these old reels, passed down from generation to generation, but lack the projection equipment to view them properly and safely. That's where Home Movie Day comes in: you bring the films, and we inspect them, project them, and offer tips on storage, preservation, and video transfer–all free of charge. And best of all, you get to watch them with an enthusiastic audience, equally hungry for local history. More information about this yearly, world-wide celebration of home movies at homemovieday.com
---
Tuesday, October 22 @ 7:00 PM / Music Box Theatre
JAZZ '34: REMEMBRANCES OF KANSAS CITY SWING
Directed by Robert Altman • 1997
Don't ask us how, but one way or another Robert Altman, patron saint of anarchist stoners everywhere for gifting the world Brewster McCloud and O.C. and Stiggs, once wound up directing an episode of the PBS culture-vulture staple Great Performances. (The series would get back to business the following season with Henry V and an opening-night gala from the New Jersey Performing Arts Center.) Jazz '34 was conceived as an exploratory footnote to Altman's 1996 narrative feature Kansas City, reusing its sets and some of its cast to fashion a memory piece based on the director's boyhood recollections of his hometown's hottest clubs. Harry Belafonte narrates, but mostly stays out of the way of the performances, which need no elaboration. Employing some of the finest jazz interpreters of the '90s (including Joshua Redman, James Carter, Geri Allen, and David "Fathead" Newman) as stand-ins, surrogates, and reanimators of the '30s sound, Jazz '34 is a concert film of ghostly exuberance. Originally stuffed into an hour-long TV slot, Jazz '34 was expanded slightly to a 'theatrical' version that never actually saw theatrical release in the US; nevertheless, the VHS release of the extended version was greeted by a lengthy celebration in the Chicago Reader from Jonathan Rosenbaum, who regarded this "awesome existential endeavor" as "the best Robert Altman feature in more years than I care to remember." (KW)
72 min • Sandcastle 5 Productions/CiBy 2000 • 35mm from the Robert Altman Collection at the UCLA Film & Television Archives, permission Sandcastle 5
Short: Betty Boop & Cab Calloway in "Minnie the Moocher" (Fleischer Studios, 1932) – 35mm – 8 min
Presented with the Jazz Institute of Chicago as part of their 50th Anniversary.
---
Saturday, October 26 @ 11:00 AM / Music Box Theatre
THE SIDESHOW
Directed by Erle C. Kenton • 1928
One of a handful of surviving silent features from Columbia Pictures, and made when Frank Capra was just another name on the call sheet and not yet the Poverty Row studio's ticket to respectability, The Sideshow is the kind of unpretentious, bread-and-butter entertainment that regularly tumbled out of the Gower Gulch assembly line to meet the demands of small-town exhibitors. After the dissolution of her family's trapeze act, Queenie (Marie Prevost) takes up with the traveling sideshow troupe of P. W. Melrose ("Little Billy" Rhodes), a circle of social outcasts harboring a saboteur. Melrose suspects carnival barker Ted Rogers (Ralph Graves) to be the culprit, an accusation that could also serve as a swift resolution to their mutual pursuit of Queenie. The Sideshow offered a role with rare dramatic shading for Rhodes, a little person who built his career on stereotyped gigs in The Wizard of Oz and The Terror of Tiny Town. Alas, the uncommon respect went little noticed because the film itself was treated like a sideshow on the fringe of a changing industry. "Here is a picture made last winter by Columbia before the talking era really hit," observed Motion Picture News. "It's too bad. [The] story and scenario … would go across strong with dialogue …. The picture should go over quite well in those houses which are denied the feature talkies." (KW)
67 min • Columbia Pictures • 35mm from Sony Pictures Repertory
Cartoon: "Felix the Cat Trumps the Ace" (Otto Mesmer, 1926) – 8 min – 16mm
Live accompaniment by Music Box house organist Dennis Scott
---
Wednesday, October 30 @ 7:30 PM / NEIU
GHOST CATCHERS
Directed by Edward F. Cline • 1944
Somewhere between Abbott & Costello and Wheeler & Woolsey in the pantheon of classic Hollywood comedy duos reside the brilliantly anarchic vaudevillians Olsen & Johnson, best known for their first screen vehicle Hellzapoppin' but for whom wacky meta-farces would become something of a stock-in-trade. Their third film for Universal Pictures, Ghost Catchers found the pair plopped into the sort of creaky haunted house creepshow the studio was furiously churning out at the time. (It would arrive in theaters a week after The Invisible Man's Revenge and three weeks before The Mummy's Ghost.) Employed to help a pair of singing sisters exorcise a paranormal pest from their rented mansion, nightclub owners Olsen and Johnson cook up a series of delightful and ghastly musical numbers (including a ludicrous swing dance routine inspired by Edgar Allan Poe's "The Raven") chaotic enough to drive out any ghoul holding himself to a haughty standard of good taste. Featuring appearances by Andy Devine, Lon Chaney, Jr., and Ed Wood stalwart Tor Johnson as self-conscious horror movie heavies, Ghost Catchers anticipated the likes of Abbott and Costello Meet Frankenstein and sundry other horror-comedies and proved the Olsen & Johnson brand could be pushed to glorious new heights of spooky stupidity. (CW)
68 min • Universal Pictures • 35mm from Universal
Film Stock: Unmarked B+W Polyester Lab: FotoKem (2014)
Short: Andy Clyde in "Spook to Me" (Harry Edwards, 1945) – 35mm – 17 min
---
Monday, November 4 @ 7:00 PM / Music Box Theatre
OVER THE EDGE
Directed by Jonathan Kaplan • 1979
Screenwriter Tim Hunter in Person!
Inspired by a local newspaper article about a rash of juvenile crimes in the suburbs, writers Charles Haas and Tim Hunter created a script about the implosion of a middle-class planned community in Colorado and rounded up a crew of very young and eerily talented nonactors, including the burning ember that was a 14-year-old Matt Dillon. Jonathan Kaplan (of White Line Fever and Truck Turner fame) signed on to direct, and what resulted was one of the most beautiful and respectful films about teenage rebellion ever made. Amidst the soul-sucking prefabs and potential real estate developments of New Granada, CO, is a seething, angry mass of kids: ignored by their parents, sick with boredom, deeply loyal to each other, distrustful of authority, and not a whole lot to do except cause a whole lot of trouble. Roger Ebert aptly called it, "depressing and harrowing and often very real… the other side of the coin of Breaking Away." Woefully mismanaged by a studio that made weak attempts to market it as a horror film before dropping it from theaters altogether, the true-to-form Over the Edge refused to be ignored, eventually entering heavy rotation on cable, becoming a well-deserved cult classic, and influencing celebrity slackers from Kurt Cobain (who claimed, "That movie pretty much defined my whole personality") to Richard Linklater, who cited it as an inspiration for his stoner odyssey Dazed and Confused. It's the sort of film that can still reach you from the small screen, but will wreck you in the theater. And the Cheap Trick-heavy soundtrack will be much, much louder. (RL)
95 min • Orion Pictures • 35mm from the Academy Film Archive, permission Warner Bros.
Short: "Back Alley Oproar" (Friz Freleng, 1948) – 7 min – 16 mm
This short was personally selected by Tim Hunter, co-writer of Over the Edge
---
Saturday, November 9 @ 11:30 AM / Music Box Theatre
THE SIGNAL TOWER
Directed by Clarence Brown • 1924
Orson Welles famously described a film studio as the greatest toy train set a boy could have, but Clarence Brown lived the dream in reverse a generation earlier, turning a working rail line into his studio for The Signal Tower, a mountain melodrama shot entirely on location in California's redwood country, hundreds of miles from Hollywood. "The whole railroad was ours," beamed Brown. "They had one train a day. Once we let that through, it was our set." Switch operator Dave (Rockcliffe Fellowes) works a 12-hour shift at the signal tower, then goes home to his wife Sally (Virginia Valli) and Sonny (Frankie Darro) in their made-to-order cabin. Still in debt to the lumber company, the family takes on a new boarder, Joe (Wallace Beery), the dandified city boy who alternates shifts with Dave at the signal tower and aspires to do so in the homestead too. A stunningly photographed and emotionally direct saga of man and machine, The Signal Tower survives thanks to Universal Show-at-Home 16mm prints, which retained the tints and much of the original photographic quality. Restored by the San Francisco Silent Film Festival in conjunction with Photoplay Productions. (KW)
84 min • Universal • 35mm from SFSFF Collection, Library of Congress
Short: "Jane's Declaration of Independence" (Charles Giblyn, 1915) – 20 min – 35mm
Live accompaniment by Music Box house organist Dennis Scott
---
Wednesday, November 20 @ 7:30 PM / NEIU
DANIEL
Directed by Sidney Lumet • 1983
Adapted by E. L. Doctorow from his roman à clef The Book of Daniel, about the aftermath of the execution of Julius and Ethel Rosenberg, this Reagan-era tribute to the Communist Party USA is one of the most neglected films of its era. Mandy Patinkin and Lindsay Crouse star as Paul and Rochelle Isaacson, City College radicals of the 1930s who eventually settle down in a Bronx radio repair shop where father lovingly deconstructs the structure of capitalism for his son with nothing more than a box of Wheaties. The arrest, trial, and eventual execution of these alleged atomic spies reverberates across the decades, as their grown children Daniel (Timothy Hutton) and Susan (Amanda Plummer) struggle to carve usable history out of this unique family cataclysm. Structured like a longhair Citizen Kane with grad student Daniel piecing together the meaning of his parents' lives through contradictory interviews with Old Left acquaintances, Lumet's film is an act of radical remembrance on a grand scale. (It helps that Lumet himself grew up in a Yiddish-labor milieu, working as a teenage actor in the WPA's Federal Theatre Project, and could probably recite Paul Robeson ballads in his sleep.) Pettily lambasted upon its release for its refusal to render judgment on a three-decade-old espionage case, Daniel is ultimately about the inscrutability and ambiguity we all must abide when regarding our parents. (KW)
129 min • Paramount Pictures • 35mm from Paramount
Film Stock: Eastman LPP (1983)
Presented in conjunction with HotHouse as part of "On Whose Shoulders?," a series dedicated to re-examining the legacy of the Communist Party USA
Short: Willie Howard & Al Kelly in "Come the Revolution" (1941) – 3 min – 16mm
---
Saturday, November 23 @ 7:00 & 9:00 PM / filmfront
LOUIE BLUIE
Directed by Tery Zwigoff • 1985
Terry Zwigoff's first film follows Howard "Louie Bluie" Armstrong as he hangs out, plays music, and, anecdote by anecdote, recounts his life. There's the time a drunk undertaker's daughter told him he wasn't Louie Armstrong, he was just "Louie Bluie," originating the film's titular moniker. Or the time Armstrong's father became a preacher, gave up string instruments as the devil's music, and thus unintendedly prompted young Howard to start playing. Born in 1909, Armstrong played 22 instruments and, by the time the film was made in 1985, was among the last members of a fading generation of black string musicians. Told to the camera in between musical numbers played live for the film by Armstrong and longtime bandmate Ted Bogan, Armstrong's story is remarkable both for its charm and for its evocation of a grim and not-so-distant Jim Crow past. Armstrong's life was a story of joy and music, but it was also inseparably a story about the challenges a black man faced moving through white spaces. From well-heeled white events in LaFollette, TN, to rough-and-tumble white immigrant dives in Chicago, Armstrong used music not only to survive but to thrive in highly adverse environments. Sometimes wrongly credited at 75 minutes, the film has always clocked in at a brief hour, according to Zwigoff due to his own erroneous belief at the time that the film could get a TV release if it was kept to sixty minutes. (JR)
60 min • Superior Pictures • 16mm from Terry Zwigoff, permission Janus Films
Preceded by: Assorted Musical "Soundies" – 10 min – 16mm
Presented with the Jazz Institute of Chicago as part of their 50th Anniversary.
---
Wednesday, November 27 @ 7:30 PM / NEIU
POPPY
Directed by A. Edward Sutherland • 1936
Snake oil salesman Prof. Eustace P. McGargle (W.C. Fields) travels from town to town with his adopted daughter Poppy (Rochelle Hudson), who really deserves better than being chased around by bamboozled yokels. Following Sally of the Sawdust (1925), the second adaptation of the 1923 Broadway show that brought W.C. Fields to fame was produced with the star nearly at death's door. Suffering from multiple medical conditions exacerbated by years of continuous drinking, rumor has it that most of Fields's long shots were actually his stunt double John Sinclair (all the more reason to cement Fields's reputation as Chicago Film Society's go-to hero for Thankgsiving Eve). Production issues aside, Fields still plays a mean game of croquet, and Poppy is both spit-out-the-mustard-you-snuck-in hilarious and, perhaps unsurprisingly, a very affectionate and genuine film about how to make the best of the family you're stuck into. Not another peep until you put your foot in it. (JA)
73 min • Paramount Pictures • 35mm from Universal
Film Stock: Eastman 2303 (2006) Lab: FotoKem
Short: W.C. Fields in "The Fatal Glass of Beer" (Clyde Bruckman, 1933) – 18 min – 16mm
---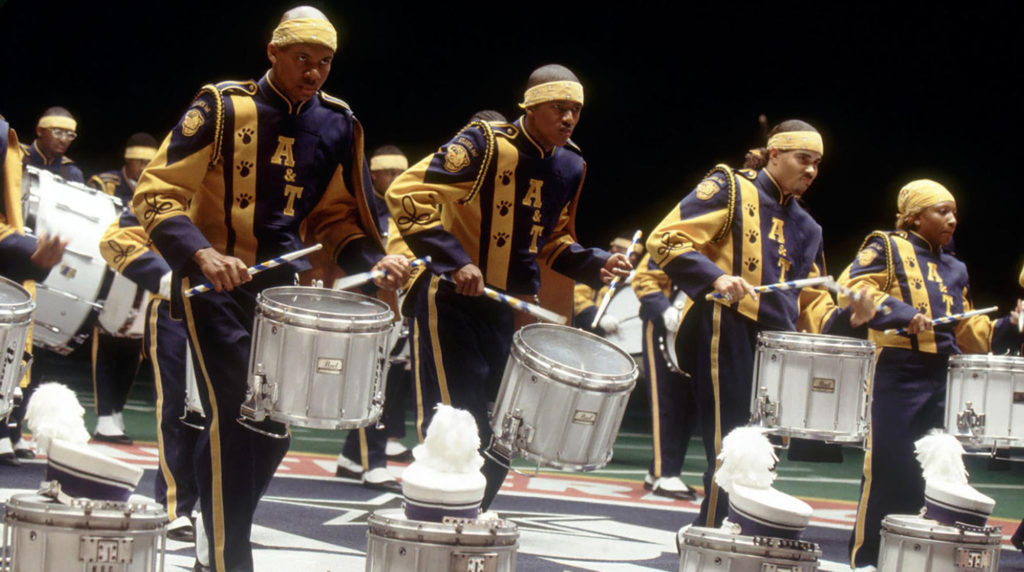 Monday, December 2 @ 7:00 PM / Music Box Theatre
DRUMLINE
Directed by Charles Stone III • 2002
Nick Cannon stars as an incoming freshman and talented snare drum player at the fictional Atlanta A&T University, a place where the halftime shows far outshine the football (which you won't see any of in this film). In a beautiful trifecta of egos, he's also an incorrigible show-off who clashes with his controlling percussion leader (Leonard Roberts) and his band director (Orlando Jones), a man so dead set against modern music he counters their rival band's au courant hip-hop compositions with "Flight of the Bumblebee." Drumline's depiction of black college life is a rare and much needed addition to Hollywood cinema, yet its most tremendous achievement may lie in its production, shooting with a marching band built from scratch out of mostly high school musicians, and a drumline composed of real HBCU drummers and the actors who trained incessantly alongside them. The competition scenes showcase some of the greatest real-life marching bands of the South, and they are beautifully shot, heart-pounding affairs, with the final showdown being well worth the price of admission. Though some bands declined to be part of the final scenes, as band consultant Don Roberts remembers they responded politely, "Thank you for the invitation to participate, however, we don't lose. Not in real life and not in fiction." (RL)
118 min • 20th Century Fox • 35mm with DTS sound from Fox Library Services
Film Stock: Kodak 2383
Short: "New Orleans Street Parade" (1968) – 5 min – 16mm from Smithsonian Institution Archives
Co-presented by CHIRP 107.1 FM

---
Monday, December 9 @ 7:00 PM / Music Box Theatre
PETER PAN
Directed by Herbert Brenon • 1924
Theatrical convention dictated that the eponymous lead of J.M. Barrie's 1904 play Peter Pan; or, the Boy Who Wouldn't Grow Up, be played by a girl. Every actress in Hollywood eyed the role, but Barrie himself insisted on casting the unknown seventeen-year-old dancer Betty Bronson over the likes of Gloria Swanson and Mary Pickford. Here and elsewhere, Herbert Brenon's glorious adaptation benefits from its peculiar fidelity to the stage version: the Darling family dog is played by a man in a mutt costume and the very theatrical moment when Peter begs the audience to clap to save Tinker Bell (Virginia Browne Faire) is imported wholesale to the cinema. As curator James Card, who saved the last surviving copy of the film from the antechamber of the Eastman Theatre in Rochester, put it, "The greatness of Peter Pan resides in its magic, the roots of which stretch back three decades and across the ocean. The beauty of Peter Pan derives directly from Georges Méliès and, like his films, and like Caligari, too, demonstrates anew that film is not part of photography—that its goal need not be banal realism." By locating the magic in plain sight, Brenon fashions an unassuming masterwork of silent cinema. (KW)
102 min • Paramount Pictures • 35mm from Kino Lorber
Cartoon: "Peter Pan Handled" (Walter Lantz, 1925) – 7 min – 16mm
Live accompaniment by Music Box house organist Dennis Scott
---
Saturday, December 14 @ 7:00 PM / Chicago Filmmakers
Jazz and the L.A. Rebellion
A loose collective of students and faculty working out of UCLA's graduate film program, the group of filmmakers who comprised the L.A. Rebellion would produce a body of work that was wide-ranging in its aesthetic strategies and generic interests but maintained a consistent focus on the African American experience and artistic life. Undergirding so much of the work produced by this diverse group of filmmakers was the influence of jazz. One of the most indelible films made by Killer of Sheep director Charles Burnett, When it Rains (1995) follows a saxophonist as he does his best to help his community throughout one very hectic day. Daughters of the Dust director Julie Dash has long cited jazz as a primary influence and one need look no further than her dance film Four Women (1975) and Illusions (1982), her breakout short on passing for white in Hollywood, for evidence. Inspired by musicians like Wayne Shorter and employing an associative, exploratory structure, Ben Caldwell's I & I: An African Allegory (1979) searches for a cinematic analog for jazz's expressive freedom through improvisational actions and documentary insertions, resulting in a maximalist experimental masterpiece. The Chicago Film Society is proud to present this collection of essential short subjects in collaboration with the Jazz Institute of Chicago. (CW)
Approx run time 88 min • 16mm from Milestone and UCLA

Presented with the Jazz Institute of Chicago as part of their 50th Anniversary.
---
Heartfelt thanks to Shayne Pepper, Michael Hines, Kyle Burke, Cyndi Moran, Robert Ritsema, Ernie Kimlin, Chris Rodriguez, & Asher Waldron of Northeastern Illinois University; Brian Andreotti & Ryan Oestreich of the Music Box Theatre; Brenda Webb & Devon Coffee of Chicago Filmmakers; Malia Haines-Stewart and Alan Medina of filmfront; Dana Altman; Randy Andrews of Swank Motion Pictures; David Antos & Chris Omiotek; Brian Belak; Brian Belovarac & Ben Crossley-Marra of Janus Films; James Bond of Full Aperture Systems; Antonella Bonfanti & Seth Mitter of Canyon Cinema; Rob Byrne and Kathy Rose O'Regan of the San Francisco Silent Film Festival; Jiayi Chen; Dennis Chong, Jesse Chow, Liam Berney, Jason Jackowski, & Eric Chin of Universal; Chris Chouinard of Park Circus; Steve Darnall; Justin Dennis of Kinora; Jack Durwood of Paramount; Katherine Greenleaf; Jonathan Herzberg of Kino Lorber; Tim Hunter; David Jennings & Kimberlee Granholm of Sony Pictures Repertory; Stephany Kim of Fox Library Services; Steven Lloyd; Suzanne Lloyd and Sara Juarez of Harold Lloyd Entertainment; Ron Magliozzi of the Museum of Modern Art; David Marriott of Arbelos; Kristie Nakamura & Nicole Woods of Warner Bros. Classics; Jake Perlin of The Film Desk; Heather Ireland Robinson and Adriana Prieto of the Jazz Institute of Chicago; Dennis Scott; Lynanne Schweighofer, Rob Stone, & Mike Mashon of the Library of Congress; Matthew Seig; Tommy Jose Stathes; Kiyan Warner; Nancy Watrous, Matt Schwarz, and Olivia Babler of Chicago Film Archives; Todd Wiener & Steven K. Hill of UCLA Film & Television Archive; Terry Zwigoff. Particular thanks to CFS research associate Mike Quintero, CFS board members Steven Lucy, Brigid Maniates, & Artemis Willis, and CFS advisory board members Brian Block & Andy Uhrich.
And extra special thanks to our audience, who make it all possible!