It can be difficult to fit into a short screening intro all the fascinating details our Research Associate, Mike Quintero, uncovers about the films we show — so we'll be sharing some of his raw research notes here on the blog, in no particular order and without much editing, because it seems a shame to keep them to ourselves. Thanks Mike!
This week's research notes are about: THE LADIES MAN (Jerry Lewis, 1961), screened on July 6, 2022 in a 35mm print from our collection as part of CFS Season 28.
★ Taglines ★

We've had NAPOLEON as the greatest lover of them all … and now it's Jerry Lewis as The Ladies Man

It's Jerry's biggest, funniest yet / Everybody's talking about Jerry Lewis as The Ladies Man / Jerry as a girl-shy handyman in a Hollywood hotel for girls only! / Fun-n-nee!!!

You've never had it so BIG, BROAD, and FUNNY / He's not the last man on Earth … he's just the luckiest! / The only man in an all-girls hotel in Hollywood! His only problem is: how handy can a handyman get?…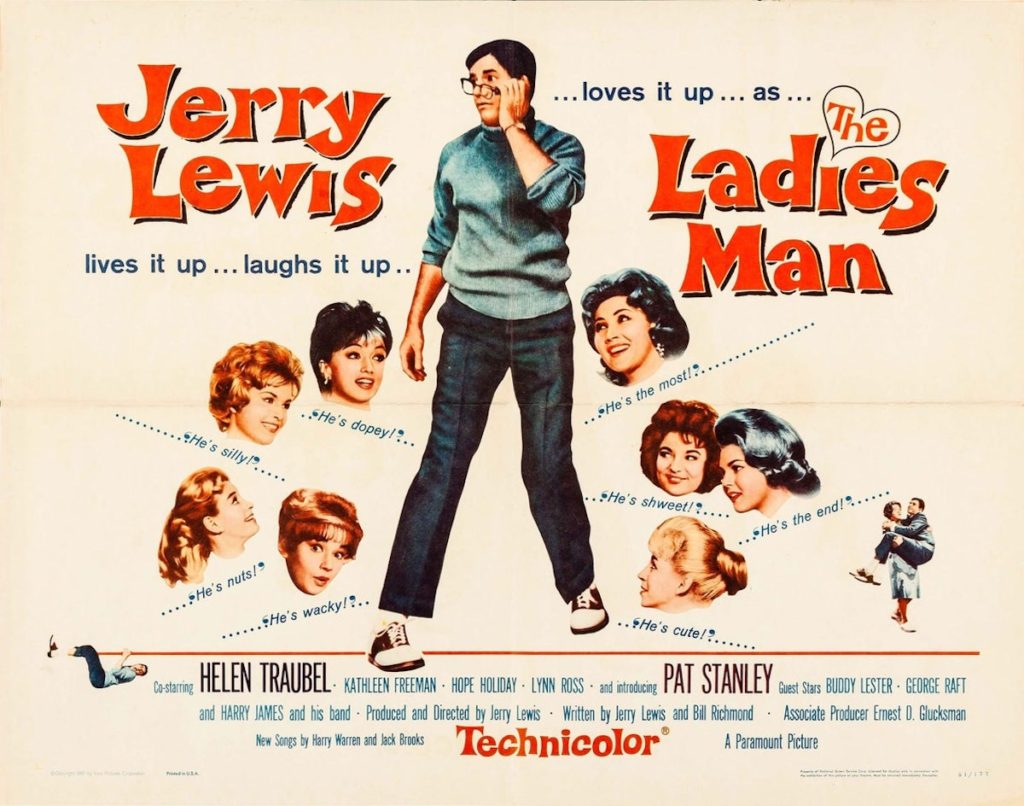 ---
Production Notes:

In a 1960 article, the New York Times' Gladwin Hill described the set for the film as "a free-form reproduction of Hollywood's Studio Club, the elegant boarding house the Young Women's Christian Association has long operated as a domicile for aspiring young actresses" realized as "a virtually complete steel-framed forty-room building, three and a one-half stories high, constructed on Stage 14 at the Paramount Studio … with just the outside wall cut away to provide a sort of X-ray view of the inner doings."

Just the steel framework for the set — bolted together, rather than welded, enabling future reuse in other films — cost $250,000 (the equivalent of roughly $2.3 million in 2022). The entire completed set (forty rooms furnished and dressed, and outfitted with built-in lighting and sound — "three miles of wire, fifty-six microphones" according to Lewis) cost $500,000.

Lewis's goal in constructing this elaborate, unusual set is described as two-fold: to allow him to better capture the "simultaneous interrelated action" of the plot and promote comedic spontaneity, but also to return the movies to "hugeness" — "not just in massive screens and overwhelming sound effects, but in production concepts."

The film has a minor Chicago connection: Karyn Kupcinet, the daughter of Sun-Times columnist Irv Kupcinet, has a small role in the film, representing her big-screen debut. Her career would be cut short just a few years later when she was strangled in her Hollywood apartment on November 28, 1963. (The murder is still unsolved, but — due to the timing of her death — has become the subject of conspiracy theories attempting to connect it to the Kennedy assassination.)
---
Release:

THE LADIES MAN premiered in Chicago on June 23rd, 1961 at the Oriental Theatre, described as the "midwest premiere" of the film.


Other films opening that day included THE MYSTERIOUS WORLD OF JULES VERNE (described in ads as "the first motion picture produced in the magic-image miracle of Mystimation", this was a dubbed Czech film combining live actors with stylized sets and animation, all evoking the original Verne books' engravings), SNOW WHITE AND THE THREE STOOGES ("A World of Beauty and Rollicking Fun For Everyone…!"), and Troy Donahue and Claudette Colbert in PARRISH ("Provocative, turbulent … the youth, the excitement of Parrish in his three loves").

Other films in Chicago theaters that week included THE PARENT TRAP at the Woods, SPARTACUS ("At Popular Prices / Exactly As Shown In Its Roadshow Engagement") at the Loop and the Carnegie, and Ingmar Bergman's SUMMER WITH MONIKA ("She thinks the sun's rays wash away one's sins!") paired with Buñuel's THE YOUNG ONE at the Monroe.

The New York release of the film a month later was accompanied by a two-day blitzkrieg of Jerry Lewis appearances at twenty-seven RKO theaters, starting around noon each day, with the last appearance after 10 pm.

The film's opening day was promoted with a large print ad in the form of an "open letter" to Jerry Lewis from the managers of New York's RKO theaters, thanking him for "bringing laughter, the greatest tonic known to man, to the hearts of all."

The signatures of the managers to the open letter was accompanied by the statement: "we affix our signatures in testimonial to our admiration of your talent and personality that have brought joy to the public through the years."
For these screenings, the film was paired with LOVE IN A GOLDFISH BOWL, described by the New York Times' Howard Thompson as "vapid and transparent."
---
Reviews:

According to Mae Tinee in the Tribune, THE LADIES MAN "manages to be moderately entertaining for about two-thirds of the footage. Then it becomes maudlin and repetitious and ends abruptly, as tho [sic] all concerned were weary of it" and is "tailor made for Lewis fans and harmless for the youngsters."

According to Howard Thompson in the New York Times, THE LADIES MAN — at least initially, with a "fresh and really funny beginning" — seemed "as promising as any Lewis package in a long time" at first. He concluded, though, that the film "all folds like a tent" after the first half hour, after which the film pushes all the other characters to the background and instead has Lewis "shuffling and stumbling in full view, as if he and the movie were merely improvising."