The Auditorium at Northeastern Illinois University
Building E, 3701 W Bryn Mawr Ave
General Admission: $7 • NEIU Students: $3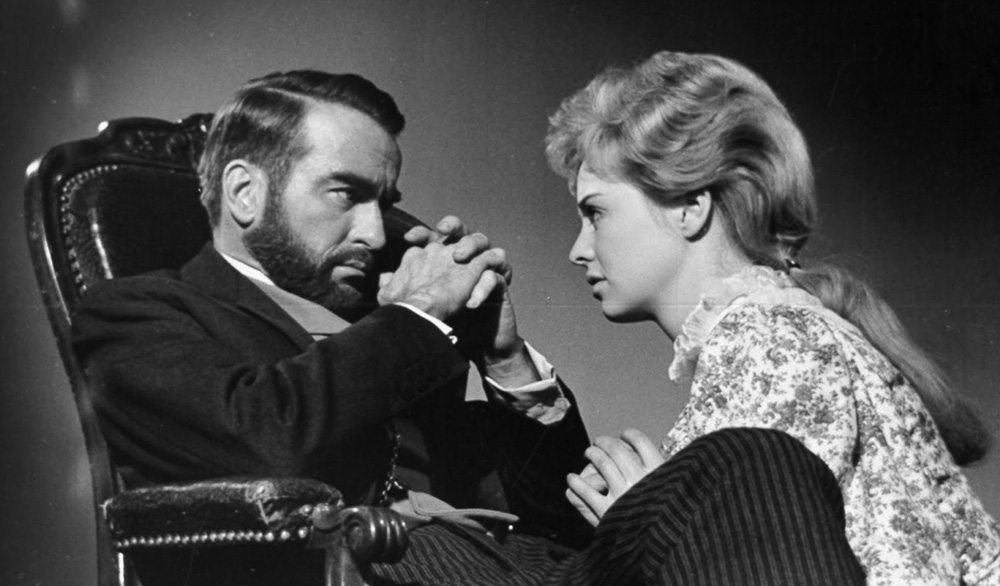 Wednesday, February 5 @ 7:30 PM
FREUD
Directed by John Huston • 1962
Few Hollywood films have faced the potentially embarrassing prospect of the University of Chicago Press publishing an annotated version of their rejected screenplay. But few movies are like Freud, an epic of the unconscious scripted by an uncredited Jean-Paul Sartre, but revised by the writers behind Juarez and South Seas Adventure after the great Parisian intellectual refused to cut it down to a standard length. (Sartre's drafts would have yielded a film of five to eight hours.) It's another swing for the fences from John Huston, the director who didn't shrink from filming Herman Melville, Flannery O'Connor, James Joyce, or the Book of Genesis. A thinking man's biopic about Vienna's preeminent thinking man, Freud eschews the cradle-to-grave Hollywood treatment to focus on a crucial five-year period in Freud's life when he would abandon hypnosis for nascent psychoanalysis as the preferred treatment for his patients. Montgomery Clift, in his penultimate role, plays Freud as a man humbled and tortured by his own discoveries. (Clift himself was fighting his own addiction to alcohol and pills in this period, but he remains a focused professional on screen.) Desperately marketed as a detective thriller under the suggestive title Freud: The Secret Passion, Huston's film received respectful reviews in its day, but remained absent on TV and home video for decades afterwards. Consider its revival the return of the repressed. (KW)
140 min • Universal-International • 35mm from Universal
Preceded by: "Sh-h-h-h-h" (Tex Avery, 1955) – 6 min – 16mm
"Montgomery Clift burns with a fierce intelligence"
– Richard Brody
---
And don't miss this very special presentation!

Music Box Theatre
3733 N. Southport Ave

Sunday, February 9 @ 7:30 PM
An Evening of Music and Film with Spektral Quartet, Alex Temple, & Julia Holter
Chicago's own Spektral Quartet and Chicago Film Society present:
Composer Alex Temple's Behind the Wallpaper slips between 19th-century romanticism, indie pop, Weimar cabaret, and Elizabethan music in a tale of mysterious transformation, featuring art-pop luminary Julia Holter.
Capped off with a CFS-curated screening of:
UZI'S PARTY (Lyra Hill, 2017) – 30 min – 16mm
Which of these women is not herself? In this short, experimental teen dramedy, five young women gather on a fated night to consult the Ouija board. They gossip, bicker and flirt until things fall apart. All effects in-camera on 16mm film, shot on spooky locations in Chicago in 2013.
Full Details: https://spektralquartet.com/concerts/2020/2/9/behind-the-wallpaper-at-music-box-theatre
---
Music Box Theatre
3733 N. Southport Ave
General Admission: $10
Watch a trailer for DISCO GODFATHER
Monday, February 10 @ 7:00 PM / Music Box Theatre
DISCO GODFATHER
Directed by J. Robert Wagoner • 1979
Copresented with CHIRP Radio 107.1 FM
An iconoclastic, revolutionary comedic voice and independent media mogul, king-of-the-party-record Rudy Ray Moore entered another echelon of cult stardom after decades of underground notoriety with the cycle of wild, unruly, independently produced exploitation pictures in which he starred in the 1970s. After originating the super-pimp folk hero Dolemite and the homicidal stand-up comedian Petey Wheatstraw, a 50-something-year-old Moore found himself closing out his biggest decade by playing a law-abiding citizen for the first time in his career, the titular Disco Godfather, besequined overseer of the hottest dance floor on the West Coast. When his basketball prodigy nephew Bucky ends up in the hospital spun out on angel dust, the Disco Godfather decides it's up to him to "attack the wack!" and sets about waging a one-man war against the local PCP trade. A vital document of vintage Black disco culture, Disco Godfather would ultimately prove less persuasive as an antidrug PSA than as a vehicle for squelching bouts of unmoored DIY psychedelia set to a series of killer original dance grooves. As an appealingly homemade and fundamentally unserious riff on kung fu and blaxploitation tropes, it also fell in line with Moore's other independent pictures, more than making up for its budgetary poverty with a goofball exuberance thanks in no small part to the strutting, rapping presence of Moore himself, an electrifying screen personality the American cinema has yet to see the likes of again. (CW)
93 min • Generation International Pictures • 35mm from UNCSA Moving Image Archives, permission Xenon Pictures
Preceded by: Blaxploitation trailer reel — ~10 min — 35mm
---